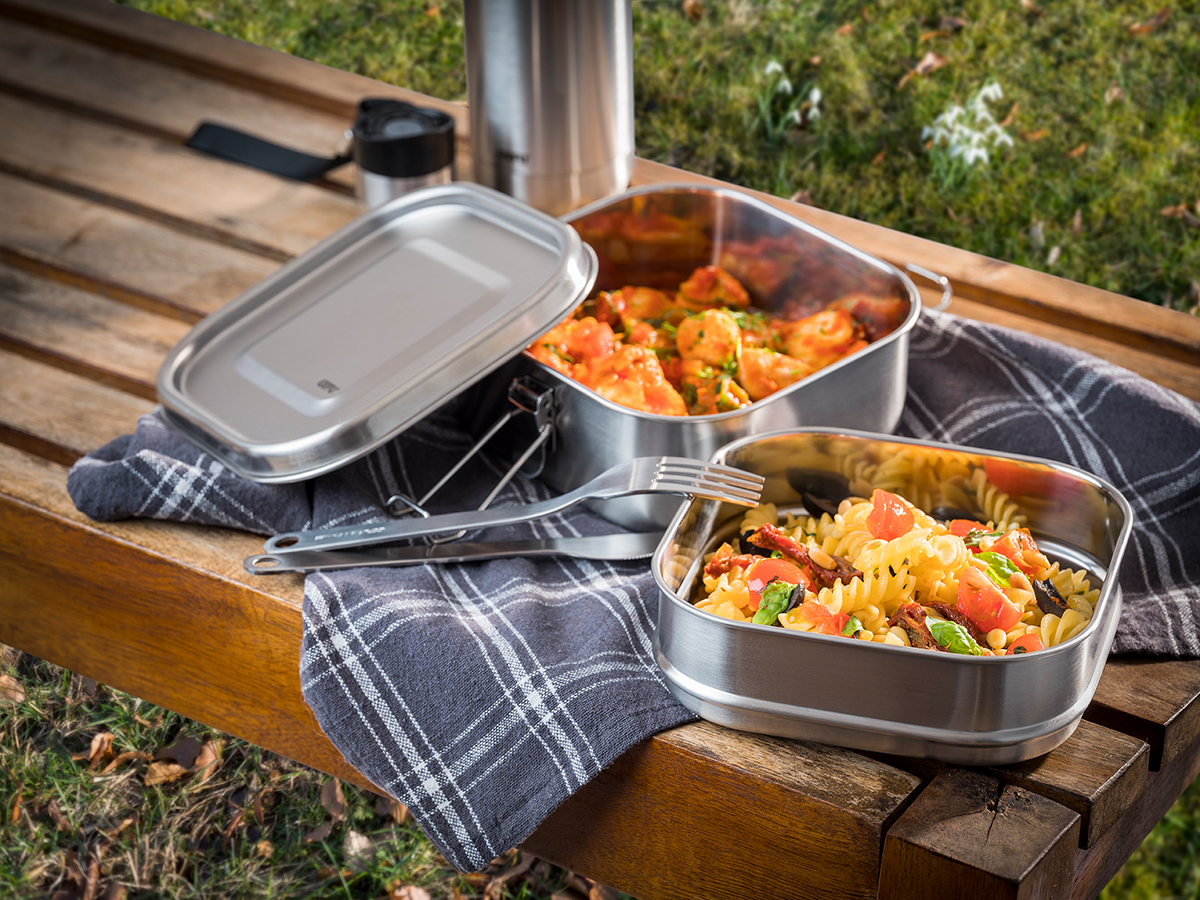 For a Green Future

Sustainability on the go
At GEFU, we also care about the environment and want to make it easier for you to live plastic-free with our products. Our kitchen utensils are not disposable products but well-designed and high-quality, so you can enjoy them for a long time.
Sustainability is not just about living plastic-free.
Our alternatives to cling film, plastic straws, etc. are particularly environmentally friendly and help you move in the right direction. With them, you can avoid plastic, buy durable products, and act ecologically.
Beeswax wraps and reusable produce bags
With a beeswax wrap, you can keep your food fresh for longer. Use it as a cling film alternative to cover bowls or wrap a piece of cheese. Beeswax wraps are easy to use, can be wiped clean with cold water after use, and are ready to use again once air-dried. These breathable, antibacterial beeswax wraps can even be used to freeze food.
If you want to bring home less plastic from your shopping, why not use our reusable fruit and vegetable bags in various sizes? Instead of using the usual plastic bags at the supermarket, place your loose produce such as fruits, vegetables, and mushrooms in a produce bag that you can reuse for future shopping trips. Our fine-mesh cotton fruit and vegetable bags still provide sufficient visibility at the checkout.
If the produce bag gets dirty, you can simply wash it in the washing machine. With GEFU, plastic-free shopping can be so easy.
Disposable coffee pods and single-use coffee-to-go cups are a thing of the past.
To make your coffee consumption more sustainable, there are various options. Don't use disposable cups when taking your morning coffee to-go from a café. Instead, get your own personal travel coffee mug, such as our NEVIO thermal mug. Of course, you can also fill it with your favorite coffee from home or even a bit more, with the OLIMPIO thermal drinking bottle available in 500ml or 750ml sizes.
Similarly, if not worse, are aluminum and plastic coffee capsules that are used only once and then discarded. But here, too, we have a suitable GEFU kitchen tool available. With the refillable CONSCIO coffee capsules, you can use your capsule machine without harming the environment. Simply fill the stainless steel capsules with your favorite coffee, and everything you need is included in the 8-piece set for a full coffee experience. After use, you can simply put the capsules in the dishwasher.
In addition, you'll find an environmentally conscious alternative for coffee filter bags in a new design. The reusable ARABICA coffee filter is a high-quality stainless steel and plastic kitchen tool from GEFU. It can be reused and easily cleaned in the dishwasher. Plus, it comes with a five-year warranty. If you don't have a drip coffee machine, you can also use it as a manual filter.
Avoid plastic and disposable items at your barbecue party.
With GEFU kitchen tools, it's possible! Giving up plastic cutlery and plastic-coated plates is not too difficult, but what about grilled vegetables? They are often cooked on aluminum plates on the grill to prevent them from burning or wrapped in aluminum foil. These create a significant amount of waste, and their health impact is debatable. An optimal GEFU kitchen accessory for this purpose is the reusable stainless steel BBQ grill tray, which is part of the BBQ range that also includes fish holders, skewers, and more.
But often, there are also cocktails or delicious punch drinks that are best enjoyed with a straw because they taste even better and somehow look nicer. Here, too, GEFU offers sustainable kitchen products for you, such as glass or stainless steel straws available in various designs and colors. Combine environmental awareness with an elegant look.
To cover any leftovers quickly at your garden barbecue party, protecting them from flies, wasps, and ants, you can also avoid plastic wrap by using our sustainable GEFU kitchen tool for plastic-free storage: the BEEWAYS bees
We at GEFU have made it our mission to help both you and the environment with our sustainable kitchen tools.