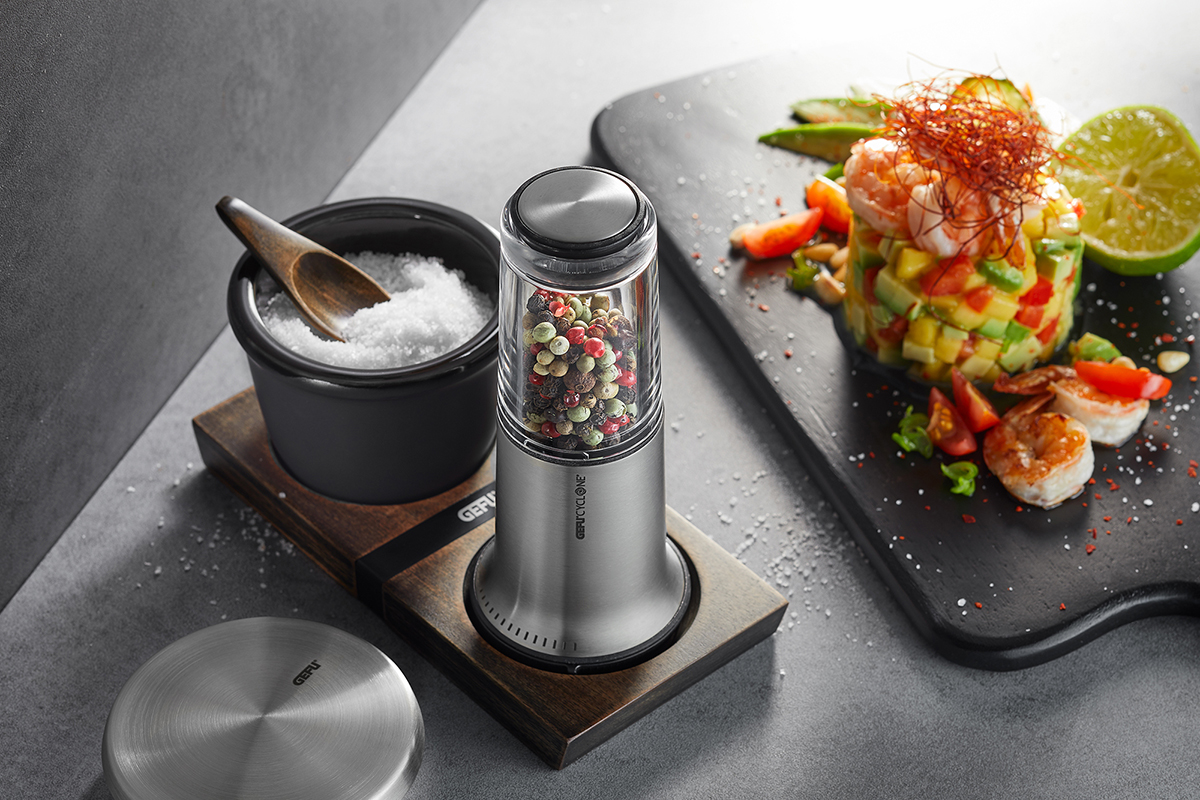 Sprinkling Delight!

Seasoning with Skill
To fully enjoy the intense flavors of your favorite spices, it is crucial to focus on the right quality and storage. The suitable products from GEFU ensure that your spices stay aromatic for a long time and fully develop their taste even after some time in the spice rack when their grand performance arrives.
With the Right Spices, Discover Your New Favorite Dish
Without spices, experimenting in the kitchen would be only half as enjoyable. Fortunately, we now have easy access to a wide variety of spices from around the world. With diverse spices, even simple ingredients can be transformed into new dishes, and your favorite meal would taste only half as good without the right spices.
Which Spices Do You Need? Essential Spices for Your Spice Drawer
The vast array of different spices can be overwhelming, especially for beginners in the kitchen. Which spices do you actually need, and which ones can you do without for now? Ultimately, the perfect setup for your spice drawer depends on the types of dishes you enjoy cooking. For those who enjoy cooking oriental cuisine, cinnamon and cardamom are indispensable, while a Mexican dish without chili is unimaginable.
To start, it's advisable to build a basic collection of spices: salt and pepper, dried chilies, paprika powder, and various herbs like basil and rosemary should not be missing from any spice drawer. From there, you can gradually expand your spice collection with more specialized spices as you try out new dishes and develop your own cooking style.
Salt and Pepper: The Basics from the Pepper Mill
Salt and pepper are essential ingredients in every kitchen and are used daily. Therefore, it's worth investing in the right quality. GEFU collaborates with the Berlin-based spice manufacturer Spicebar, which offers classics from the spice rack, such as coarse desert salt in exquisite organic quality. Combined with our salt and pepper mills from the X-PLOSION series, every ordinary dish becomes extraordinary. The CYCLONE grinding mechanism made of high-performance ceramic has extra sharp and numerous teeth, ensuring that salt and pepper are ground gently and uniformly - to the exact fineness you desire.
Ground Spices: Well-Protected in the Spice Dispenser
Spices or spice blends that you purchase already ground must be tightly sealed and protected from moisture. With our X-PLOSION spice and herb dispenser, you'll have ground spices, as well as dried herbs and teas, ready at your fingertips with just a simple twist. The sealable lid reliably protects the aromas, and the practical labels for individual labeling ensure more organization in your spice rack.
Fresh Herbs, Nuts, and Roots: Easily Crushed with GEFU
Some spices develop their best flavor when freshly processed. This doesn't have to be complicated because with the right kitchen utensils, fresh herbs, nuts, and roots can be quickly crushed. The X-PLOSION mortar, made of durable granite and stainless steel, is particularly suitable for this purpose. For ginger enthusiasts, the porcelain mortar with ginger grater SURI is just the right tool, as it serves two purposes at once.
Elegant Design at GEFU: Flavor for All Senses
How should spices be stored? The answer is: as aroma-friendly as possible - and in an elegant design! After all, we eat with our eyes, and they don't just focus on the plate. Salt and pepper mills, as well as spice jars, which are placed on the table during meals, should ideally please not only the palate but also the eye. We pursue this goal with the design of our collections, ensuring that our various salt and pepper mills match your personal style. From the classic FLAVIO salt and pepper mill to the modern design of the LAMOLA dual mill and the rustic TEDORO series - there is something for every taste. The X-PLOSION salt and spice jar is a beautiful addition to your dining table, allowing you to present not only spices for seasoning but also dips and sauces in a stylish manner. GEFU: Unique dining experiences for both the palate and the eye.