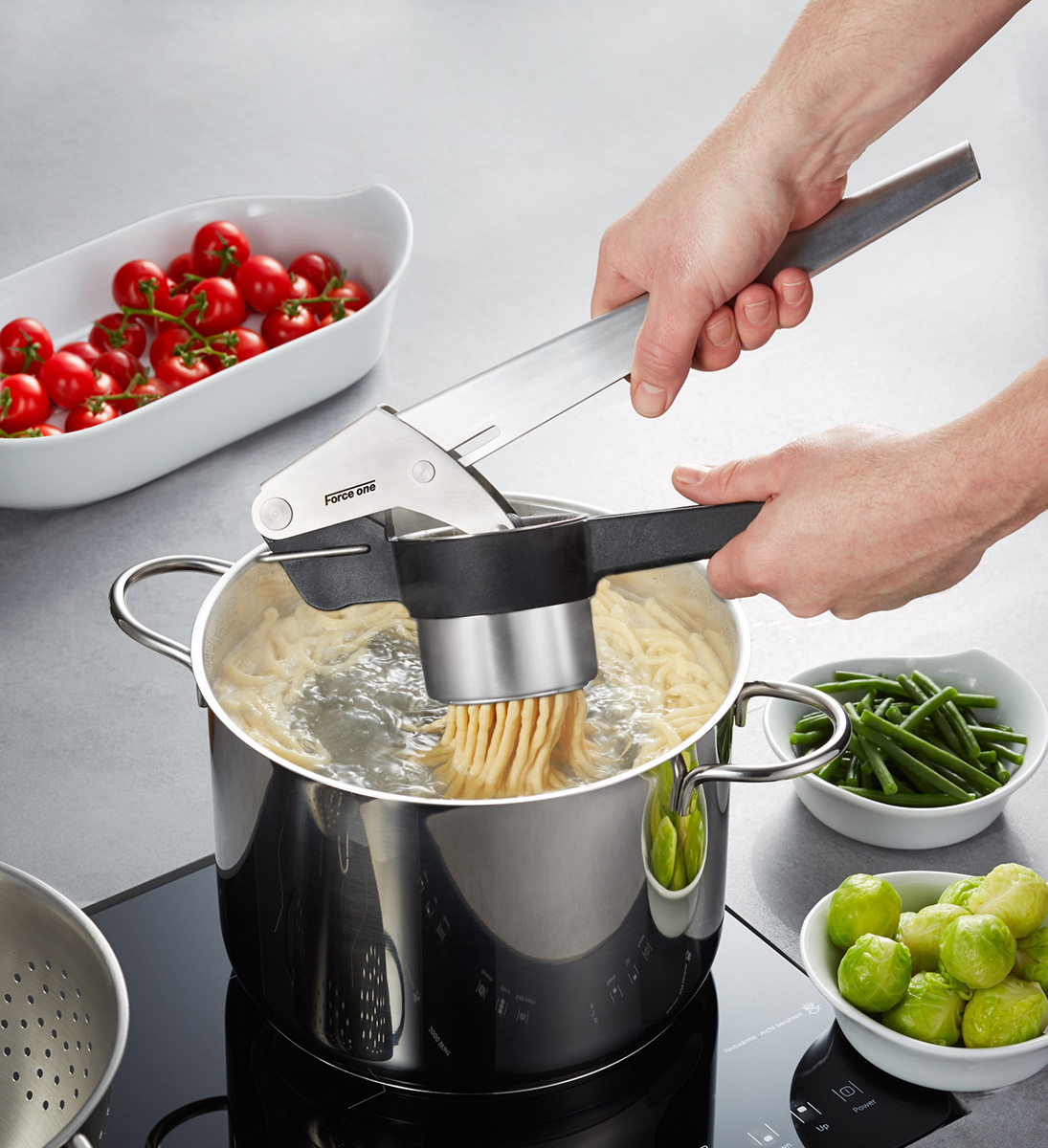 A delight that seduces the palate

Pasta and Potato
Dishes in unique shapes instantly increase the desire for food. That's why more and more elaborate recipes are being created. Of course, you can also recreate such dishes at home using simple kitchen tools. Starting from homemade pasta for pasta dishes to perfectly mashed potatoes, and even dumplings and gnocchi.

Buy a pasta machine and potato press directly
Use a citrus press, for example, in the cold season to create tasty and vitamin-rich juices for your family with this kitchen utensil. A bit larger and multifunctional, on the other hand, is a juicer that produces a vitamin boost drink from various fruits and vegetables. You can then adorn these juices or a delicious punch, for example, with melon balls. The melon baller, BOCELI, with which you can effortlessly create decorations for your dishes, will help you with that. With the SPIRELLI® spiral cutter, you can also achieve great shapes for creative dishes.
How do I press garlic?
Garlic is not only very healthy but also a delicious spice that I can't imagine many dishes without. An ideal garlic press even saves you the tedious task of peeling the garlic cloves if you prefer. Simply cut off the hard end of the clove and place it in the garlic press. Squeeze, and you're done.
How does a spaetzle press help me?
Spaetzle is very popular and usually quick to make. However, scraping the dough off a board can be time-consuming. To avoid having to remove the first spaetzle from the boiling water while the rest are not yet cooked, you can save a lot of time and effort with a spaetzle press. Simply place the spaetzle dough in your GEFU spaetzle press PRESCO, press the plunger downwards, and you're done in no time. Ideally, you can also use this kitchen tool for pressing potatoes. The potato and spaetzle press TRI STAR® even comes with three different perforated discs, offering you a variety of uses.
How do I shape Maultaschen?
Instead of struggling with cutting out dough shapes and dealing with open Maultaschen after cooking, try using the RAVENNA ravioli/Maultaschen maker or the three-piece RAVENNA ravioli/Maultaschen maker. The bottom of this kitchen tool serves as a cutter for Maultaschen and ravioli. Then place the piece of dough inside and fill it as desired. Simply fold the kitchen tool together, and the Maultaschen are securely sealed and ready to be cooked.
Creating perfect homemade pasta
Noodles and pasta dishes are very popular. Homemade noodles taste even better. To delight in perfectly shaped noodles and lasagna sheets, we have the PASTA PERFETTA NERO pasta machine in our range. This kitchen tool for lasagna, tagliolini, and tagliatelle saves you loads of time and effort. With the additional attachment for ravioli, you can easily make this pasta variety as well. And if you'd like to make noodles in advance, you can dry them with the space-saving DIVERSO pasta dryer and enjoy them later.