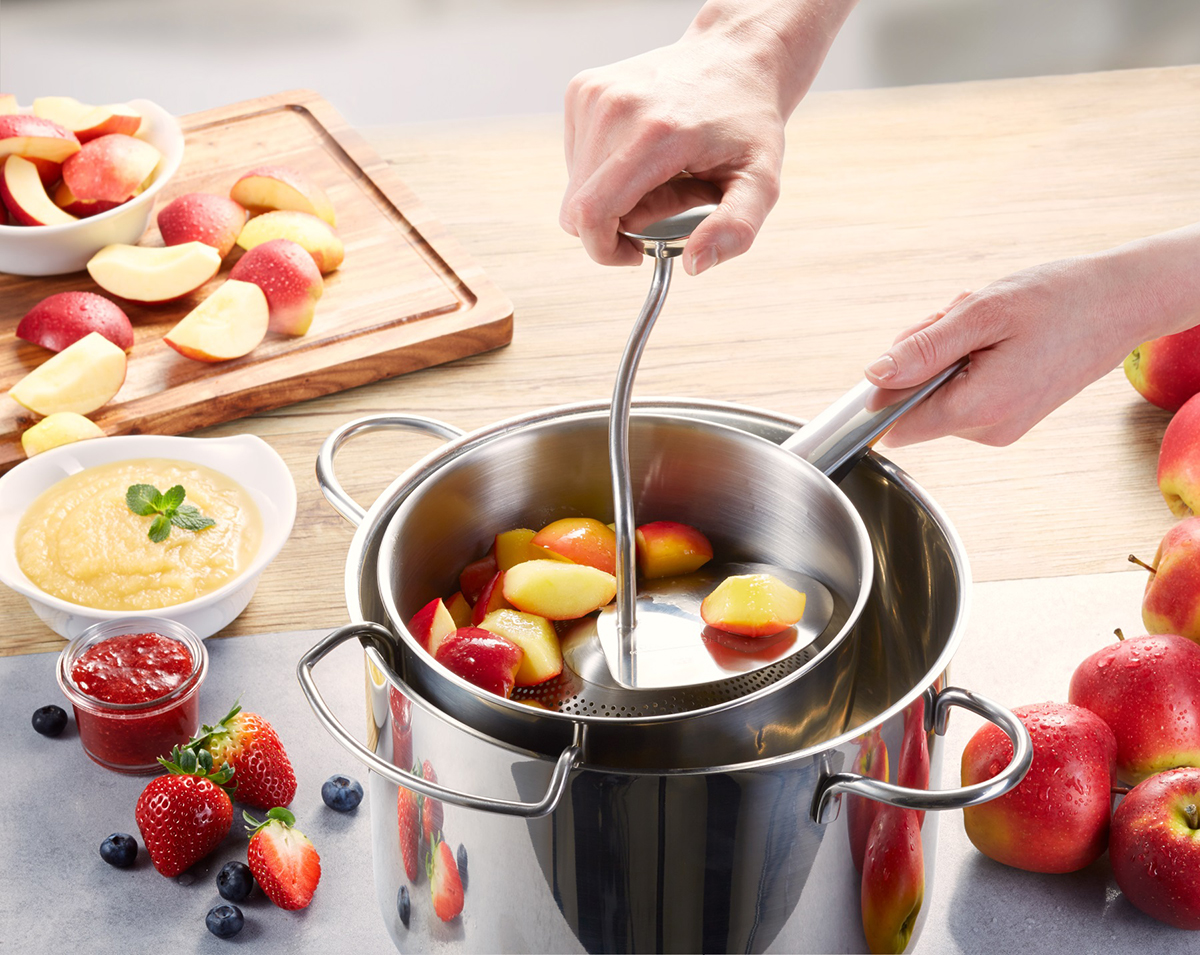 Enjoyment for every taste

Straining and Preserving
Just like Grandma's jam, the perfect homemade fruit spread should taste. But preserving fruit at home seems to be an impossible task in today's busy life, so ready-made jams are bought at the supermarket, which don't provide the authentic feeling of home. But it doesn't have to be that way, because with GEFU kitchen tools for straining and preserving fruits and vegetables, it's not only super fast but also super easy.
DIY - Homemade always tastes the best - That also applies to preserves and purees
How can I preserve fruit and strain vegetables myself?
This can be done very easily with kitchen tools for straining, such as the Flotte Lotte® food mill. Preserving food is quite clever because it's a natural and cost-effective way to extend the shelf life of perishable foods like fruits and vegetables. It's important to prepare the fruits properly, for example, using the cherry pitter or the apple corer KERN-OTTO because no one wants the seeds. And depending on the type of fruit, you'll want to remove the peel beforehand using a universal peeler as a kitchen utensil is usually the right choice.
Now, there's nothing standing in the way of storage, gifting, and stocking up. When preserving food, it is pasteurized by heating and then packed airtight in a preserving jar. The heat from the cooked fruit and/or vegetables creates a vacuum inside the jar, which explains the "popping" sound when first opened.
There are two ways to preserve fruits and vegetables:
Firstly, you can briefly heat the fruits or vegetables at 60 to 90 degrees Celsius and then place them in a sterile jar. The advantage of this method is that it preserves a higher amount of vitamins and nutrients. However, the foods pasteurized in this way are not as long-lasting. This can be done wonderfully, for example, with the steamer insert VITALA as a kitchen tool.
Secondly, you can also cook the desired foods at over 100 degrees Celsius for a slightly longer period. This kills all microorganisms that could cause spoilage. Although the cooked food loses a portion of its nutrients and vitamins, it can be preserved for a very long time. This method is suitable for making jams, strained tomatoes, or even baby food and can be done incredibly quickly with our Flotte Lotte® food mill.
What fruits can I preserve or strain?
Regardless of which fruit or vegetable you choose, whether it's applesauce, pureed carrots, plum jam, or cherry marmalade, there are no limits to your imagination and personal taste. To prepare the fruits optimally, there are kitchen tools that save you a lot of time and effort. For example, pitting cherries or plums without any tools can be quite laborious. That's why we offer our cherry pitter DROPIO and plum pitter DROPIO as kitchen tools. Homemade applesauce is also popular and can be a particularly healthy alternative to the supermarket version, as you can avoid added sugars. But who wants to peel and core several kilograms of apples? We have various kitchen utensils specifically designed for apples. At GEFU, we make preserving and straining easier for you, whether you're making applesauce, preparing mashed potatoes, making Grandma's strawberry jam, recreating the tomato sauce from your favorite Italian restaurant, or preserving cauliflower.
What kitchen tools do I need for preserving?
To preserve or strain fruits and vegetables yourself, you basically need a large pot, a kitchen sieve, a measuring cup, a kitchen towel or the Passiertuch PASELO, and a sharp knife or one of our cutting products. You will find the necessary products in our assortment, of course.
However, without a few additional kitchen tools, you may quickly give up on your intention to preserve and can because the preparation seems particularly tedious and time-consuming. Our kitchen tools for preserving are here to make your work easier. They help, for example, with pitting stone fruits, peeling vegetables, or straining the pulp. With the Flotte Lotte food mill, you'll get the smoothest jam you can imagine.
We prioritize quality, which is why all our kitchen tools are made of the finest stainless steel, crafted with high precision, exceptionally durable, and offer an unbeatable price-performance ratio. We deliver your products quickly and reliably, and you benefit from our 5-year warranty.