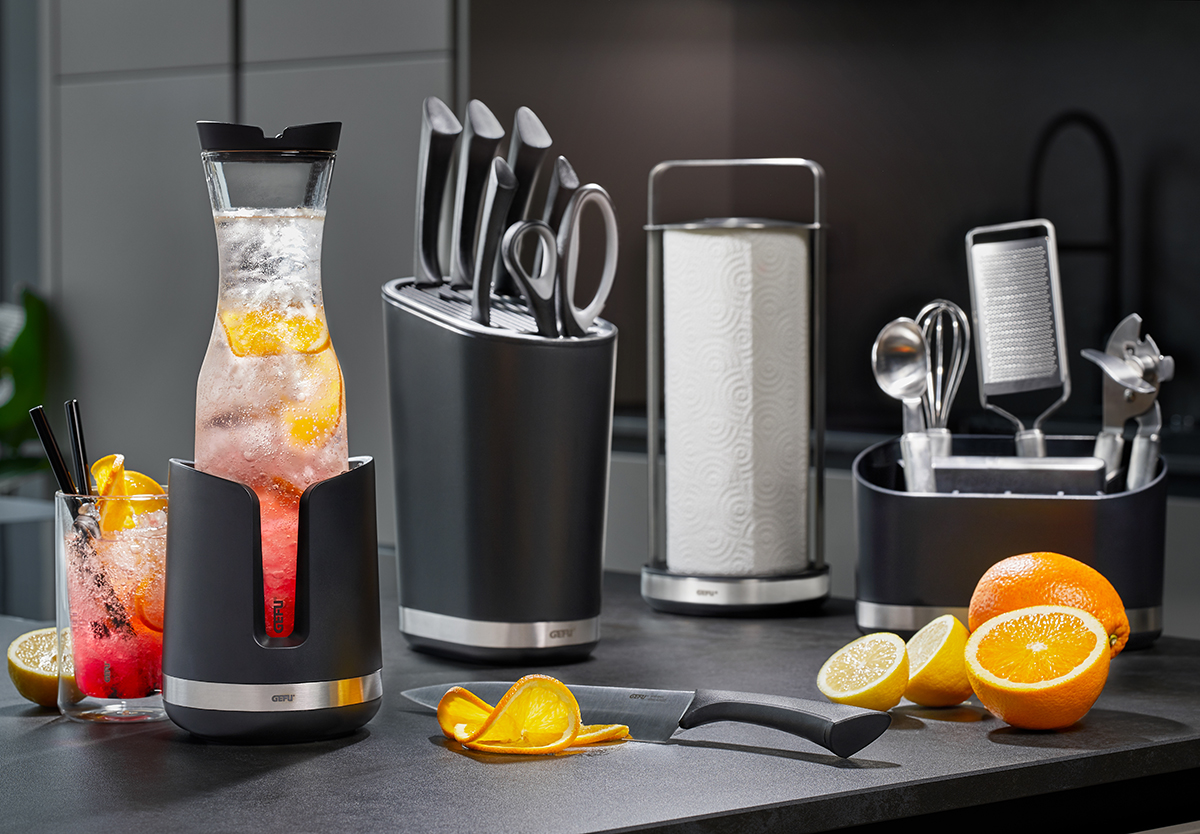 Design meets efficiency

Kitchen Tools That Inspire!
Kitchen utensils that combine modern design with real utility can be found in our GEFU shop. Simplify your cooking with stylish and ergonomic kitchen helpers, making your kitchen a standout in the process!

Design kitchen utensils that not everyone has
How does a spiralizer work? The futuristic kitchen helper.
Our spiralizer SPIRELLI is simple and ingenious. This kitchen utensil functions similar to a pencil sharpener: You attach the leftover and vegetable holder to the vegetable of your choice, insert it into the spiralizer, and twist until all that remains are appetizing endless spirals that you can further process into vegetable pasta or raw salads, for example. With the three stainless steel prongs in the leftover and vegetable holder, the vegetable stays in place, and cutting is done in no time. The included cleaning brush makes it easy to clean the spiralizer. Discover the functionality of our elegant design product for yourself. Choose now between the kitchen tools Spiralizer SPIRELLI, the SPIRELLI 2.0 with a convenient leftover and vegetable holder, and the SPIRELLI XL for extra-wide vegetables!
What can you do with a meat grinder?
The multifunctional kitchen utensil. You may be wondering if you really need a meat grinder. Our answer: Yes, our meat grinder TRANSFORMA will become an indispensable part of your kitchen! With it, you can not only make minced meat and have control over the type of meat, meat quality, and amount of fat in your favorite meat recipes. You can also use a kitchen helper like the meat grinder to grind other things, such as fish or vegetables. Last but not least, a high-quality meat grinder is essential for Christmas baking, where it will shape the perfect spritz cookies for you. The two perforated discs, bayonet closure for easy conversion, and various attachment options make our meat grinder TRANSFORMA a multifunctional kitchen utensil that is also visually appealing.


What can a food chopper do?
The kitchen tool for time-saving. In addition to the spiralizer SPIRELLI and the meat grinder TRANSFORMA, you will find other kitchen utensils for cutting and chopping in our GEFU shop. The multi chopper SPEEDWING is worthwhile if you enjoy preparing salads and vegetarian recipes with lots of vegetables. With this manual chopper, you can efficiently chop vegetables, herbs, and even hard nuts without the need for electricity, thanks to its efficient pulling mechanism. As with all our design kitchen utensils, efficiency is combined with attractive design and various applications. Simply put on the lid and store your delicacies airtight in the chopper itself. If you're looking for a kitchen helper specialized in slicing even slices in seconds, then the slice cutter RAPIDO is the right choice for you. Just press it down onto the vegetable from above, and perfect slices will effortlessly land directly in the container, ready to be added to your pan or pot. You'll be delighted with the time saved!
Why do you need a salad spinner?
The kitchen utensil with the right spin. A salad spinner is a practical kitchen tool for every salad lover. With our salad spinner SPEEDWING, you're not only choosing a practical kitchen utensil but also high-quality design on your kitchen table. With the effective pull cord system, you can quickly and gently dry your salad. Then simply pour out the excess water without opening the lid, made possible by the right design. Another advantage: You can skip transferring the salad to a separate bowl because, as with all our design kitchen tools, the stainless steel bowl of the salad spinner is a real eye-catcher.