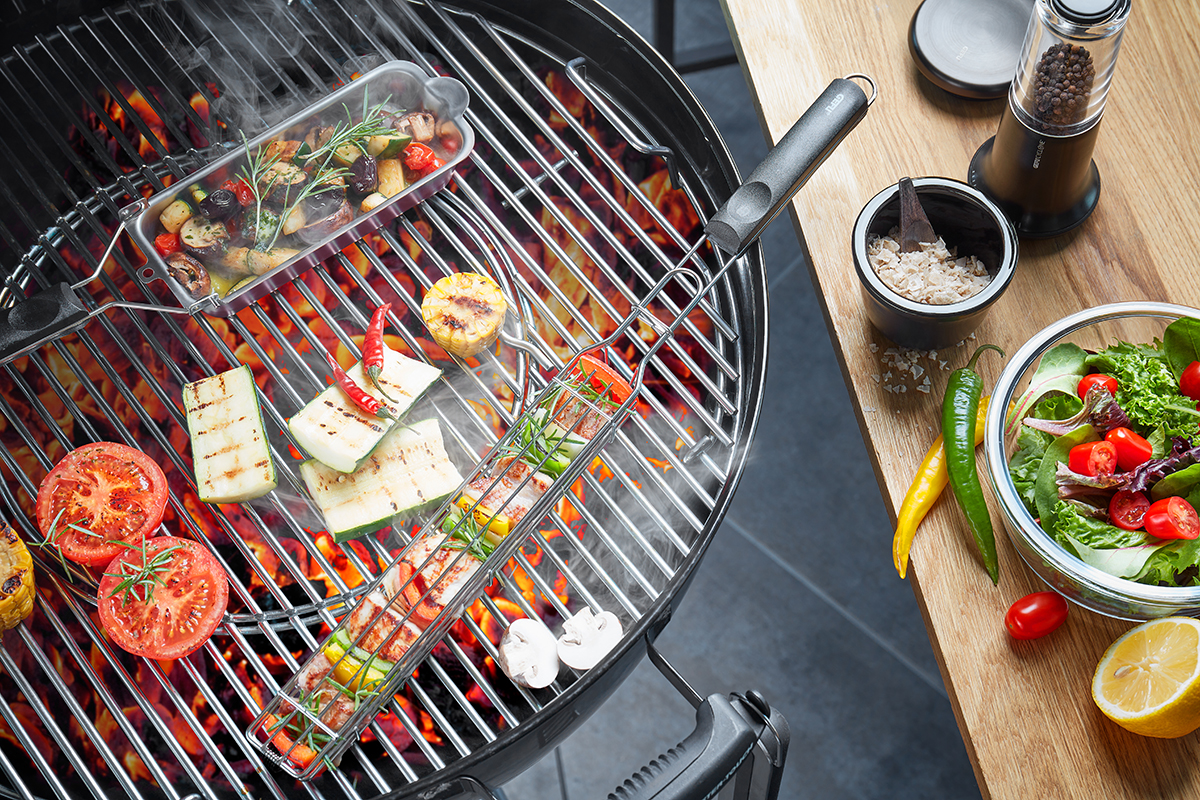 Grilling with Passion

BBQ pleasure for all the senses!
For a relaxed barbecue party, some kitchen utensils are essential. In addition to the basic equipment that makes every grilling recipe easier, there are special kitchen tools that have been specifically developed for your favorite meat recipe.
Which kitchen tools do I need for grilling and BBQ?
You can assemble your basic equipment from the BBQ line in our GEFU shop. Whether it's burgers, sausages, or vegetable skewers, you need the right kitchen tools to safely remove your grilled food from the grill. You can rely on our BBQ grill tongs and BBQ grill fork for that. Depending on the shape and weight of your grilled food, one of these kitchen helpers may be more suitable. Both are high-quality and stylishly designed. To protect your body, you no longer have to worry about safety while grilling and can focus entirely on the best grilling recipes. Equip yourself with our BBQ apron and protect your hands with the heat-resistant silicone-patterned BBQ grill glove or the leather version – whichever you prefer.
Now you have the basic set of cooking utensils for your grill, and you're good to go! But of course, grilling is even more enjoyable when a few practical kitchen tools do most of the work.


Which kitchen tool should I use to grill the perfect burger?
Grilling burgers to perfection makes every barbecue party a success. With our BBQ hamburger press, you can shape your ground meat into the perfect patty, ensuring even cooking and achieving an attractive grilled look with grill marks. You can also make burger patties from other ingredients, such as kidney beans or various grains like spelt. It's important to season your mixture well and ensure it holds together, for example, by adding an egg as a binding agent.
Use the BBQ turner to flip your burger once it turns golden brown and let the other side cook. Your burger is ready! If you want to impress your guests with homemade burger buns, use our BBQ burger ring to achieve not only a round shape but also the perfect size for the patties.


What can vegetarians grill?
GEFU kitchen tools offer various possibilities: The idea that vegetarians or vegans can only eat baguettes and a bit of salad at a barbecue party is long in the past. Nowadays, there are countless vegetarian dishes that can be prepared on the grill, and vegan recipes are also quite common. For example, use our BBQ grill trays in different sizes to grill vegetables or potatoes. With the NATURA wooden skewers or the stainless steel BBQ grill skewers, you can grill vegetable skewers that will be popular not only among your vegetarian guests. For example, alternate bell peppers, onions, and rolled-up zucchini on your skewers. Of course, you can also use these kitchen utensils to create delicious meat dishes or grill fish. With our BBQ vegetable wok, your creativity knows no bounds. Whether vegetarian, with meat, or fish, you can adapt any imaginable recipe that can be cooked in a wok or pan to your grill.


What meat can I grill? And which kitchen tool should I use?
You don't have to limit yourself to sausages! With the right kitchen utensils, you can grill any meat you desire. The pressure generated by our BBQ meat press helps you perfectly cook your steak on the grill. With our chicken griller and BBQ vegetable wok, you can easily grill a whole chicken with aromatic flavors while simultaneously cooking the side dish in the wok. Our BBQ chicken leg holder and spare rib holder further expand your options, and if you enjoy eating fish, our BBQ fish holder is perfect for you. With the right kitchen utensils from GEFU, you can enjoy many of your favorite recipes from your kitchen on the grill.