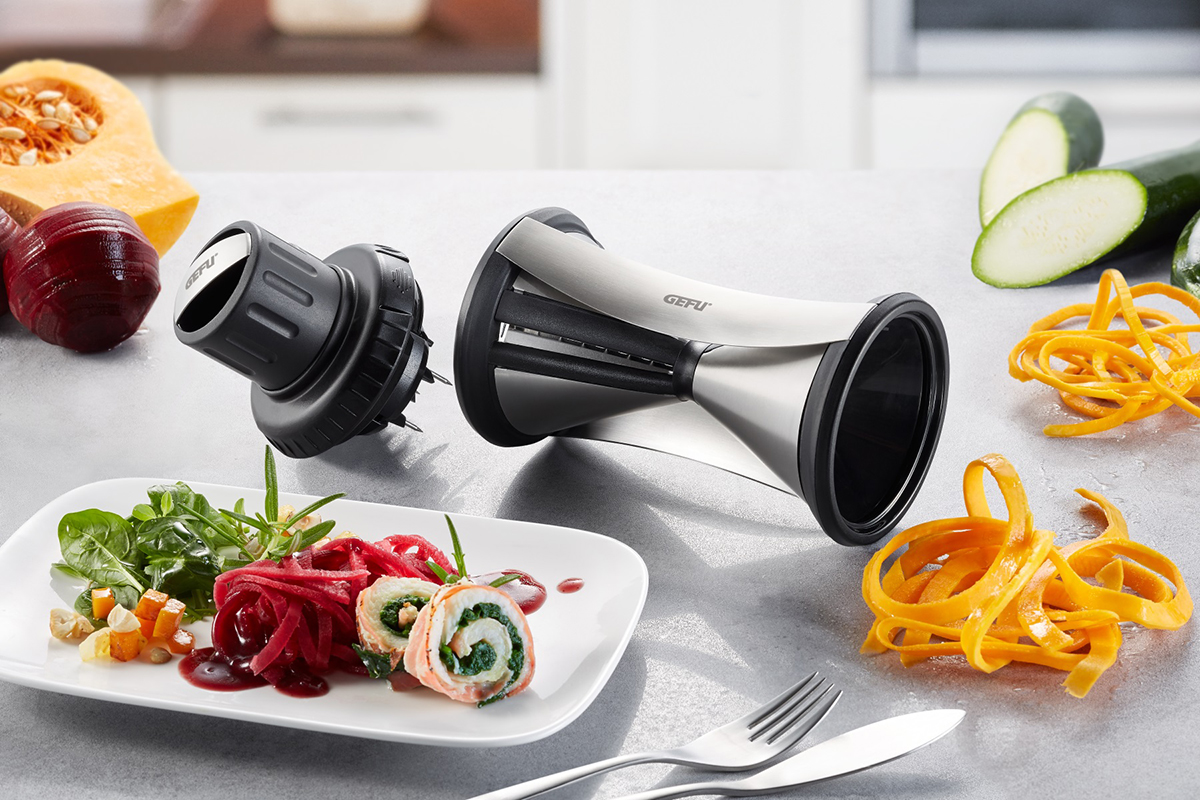 Precision that convinces

Cutting like a pro
Dull blades can be frustrating when it comes to slicing and chopping food. Additionally, it wastes time by struggling with ineffective cutting, time that could be spent with family or friends. GEFU uses Japanese blade steel for its products, ensuring that the blades remain exceptionally sharp for a long time while still being dishwasher safe. Let our warranty promise convince you!
Cutting: Not all knives are created equal - Sharpness is also in the design at GEFU
High-quality tools are essential not only in an automotive workshop but also in kitchen utensils, where quality and efficiency should not be overlooked.
How can I quickly and evenly slice vegetables?
Uniform slices: Try out the RAPIDO slicer and effortlessly slice mushrooms, tomatoes, olives, grapes, boiled eggs, potatoes, and many other ingredients into appetizing slices. Your hands will not come into contact with the blades, making this kitchen tool suitable for children as well.
Quick vegetable sticks: Vegetable sticks with or without dip make for a delicious and healthy snack. The only challenge is the slicing... but we have a speedy alternative: The FLEXICUT vegetable/fruit divider cuts not only vegetable sticks for TV evenings or game nights but also tasty potato wedges and much more. Enjoy a time-saving of approximately 70% and the durability of the blades, thanks to the Japanese blade steel. Simply choose whether you want the vegetables/fruits to be cut into quarters or eighths, and you're ready to go. This nimble kitchen helper also ensures that you won't cut your fingers with its pusher.
Simply tempting: Bring fun to your plate with the SPIRELLI® spiral slicer. With our Spirelli, you can turn vegetables into spaghetti-like strands. Colorful vegetable spaghetti make vitamins more interesting, and even the pickiest eaters will be convinced. The spiral slicer quickly transforms firm vegetables such as zucchini, radishes, beets, carrots, etc., into long julienne spirals. Your fingers are protected with the vegetable holder, and the included cleaning brush helps with the spiral slicer's cleaning.
Chopping with a manual motor: Vegetables, fruits, herbs, nuts, and more. Chop onions, spin your herbs with the basket insert, or mix dips with the stirring insert of the SPEEDWING® multi-chopper. The multi-chopper is not just a kitchen utensil; it's three kitchen helpers in one. With its ergonomic manual pull function, you don't need electricity. The Japanese blade steel effortlessly cuts even when the vegetables are a bit softer. Enjoy a Greek salad in under 15 minutes. Save yourself from tears when chopping onions. And use the time you save for your hobbies.
How to properly slice fruit?
Slicing pineapple correctly has sparked many debates. We'll show you a simple method: The COMFORT pineapple slicer is a kitchen tool that should not be missing in any kitchen because pineapple is so healthy. Simply cut off the top of the pineapple, place the kitchen tool on top, and twist it downwards. Then pull it out, and you're done. Peeling a pineapple has never been easier, and the rings for your Hawaiian toast or pineapple cake are ready.
If you prefer pineapple chunks instead of rings, no problem. Simply attach the included pineapple slicer and push it downward. Now you can enjoy!
Apples are among Germans' favorite fruits, and when sliced correctly, there is minimal waste. That's why the apple divider was developed as a kitchen helper. Only a narrow core roll remains, and the even apple slices are easy to enjoy.
The mango poses a challenge for many: How to properly slice a mango? We have a solution for that too. The PARTI mango slicer quickly separates the juicy mango flesh from the hard pit.
Our kitchen utensil development department has come up with even more kitchen helpers in terms of cutting and continues to set new standards in creativity, time-saving, and safety. From now on, only cut with the truly sharp knives and kitchen tools from GEFU. You'll never want to cut any other way again.