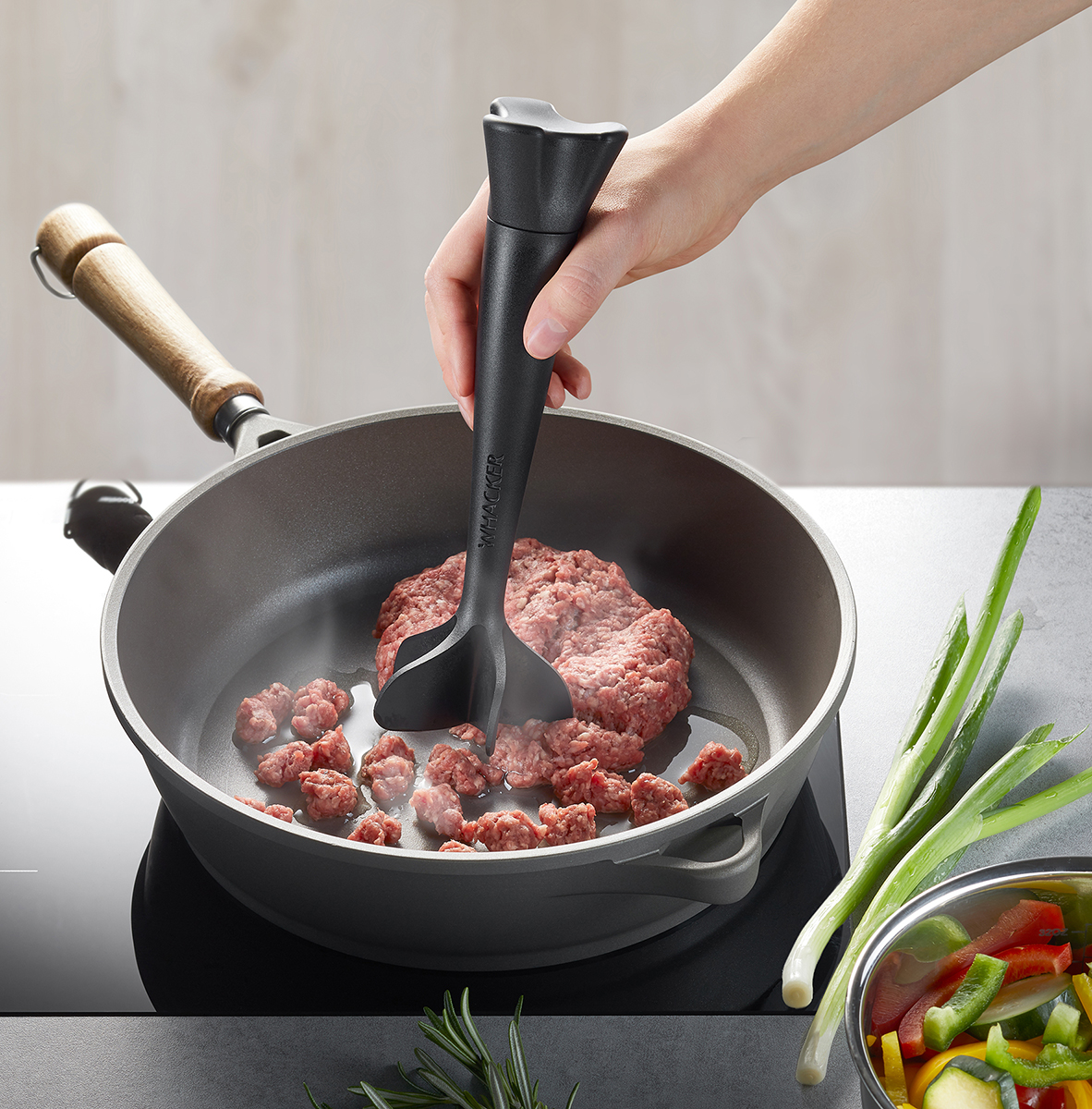 Experience Delicious Flavor

Unleash the Art of Roasting
Does the thought of tender buttery filet mignon or the perfect juicy burger make your mouth water? Understandably so, as properly cooked meat is an absolute delight. The key to achieving this is proper roasting. It becomes even easier with practical and high-quality cooking tools for roasting. Our range offers kitchen utensils for cooking with passion and simplicity.
Cooking like a professional chef
How to cook the perfect burger?
To prepare the perfect burger, you'll need the right kitchen utensils for burger pressing and cooking. A truly good burger is quite different from what we know from classic fast food chains. Delicious ingredients, fresh buns, flavorful sauce, and a personal touch make the patty in the bread casing a true delight. However, the heart of any successful burger is the burger patty. Whether made with meat or prepared vegetarian, the motto here is: homemade tastes better than store-bought. This way, you know that you're using high-quality ingredients and can incorporate your personal preferences.
One kitchen utensil you can use to make your patties is our TRANSFORMA® meat grinder for preparing the ground meat. It's made of high-quality stainless steel and plastic, dishwasher-safe, and offers various transformation options. To shape the homemade ground meat into the right form, you should use our Party Burger Press SPARK. Its adapted bottom curvature prevents the meat from deforming during cooking, allowing you to quickly create the perfect 60g party burgers. After cooking, all you need to do is assemble your burger bun according to your personal taste. To prevent your perfect burger from falling apart with the first bite, we recommend using another kitchen helper, the Hamburger Skewers TORRO.
How to cook the perfect roast?
The right kitchen tools make the difference: A roast is a whole piece of meat that usually includes a layer of fat and requires a long cooking time in the oven at a relatively low temperature. This allows the meat to become crispy on the outside while remaining juicy and tender on the inside. It may sound complicated, but it doesn't have to be! The ideal temperature inside the oven should be a maximum of 120 degrees Celsius. To ensure you can reliably monitor your oven, a small yet fine kitchen utensil like the MESSIMO oven thermometer is worthwhile.
Depending on the size of your roast, you should plan for a cooking time of three hours. However, it's best to check the meat itself to determine if it's perfectly cooked. A beef roast is well-done at an internal temperature of 71 degrees Celsius, while a pork tenderloin should reach 68 degrees Celsius. But how do you check the internal temperature of your roast? Here, too, there is a kitchen tool that provides a clear answer: our analog meat thermometer MESSIMO with a convenient display for easy reading. You can make it even easier with the digital meat thermometer PUNTO, which has a timer function. With these tools, nothing can go wrong.
How to make perfect roulades?
To prepare roulades, the key is to achieve tenderness and flavor. You should start by pounding the already thin slices of beef with a meat tenderizer. Then, season them with salt and pepper and spread some mustard on top. Next, place bacon and pickles on the meat, roll it up, and secure it with kitchen twine or our practical Roulade Clips VOLTE. Sear the roulades briefly in oil and then transfer them to the oven. Done!
How to cook the best steak?
For the perfect steak, the same principle applies: good quality meat is crucial. Additionally, using high-quality kitchen utensils can lead to the best possible result. Your steak should be at room temperature before placing it in the pan, preferably a cast-iron one. However, be careful: if the beef is frozen, let it thaw in the refrigerator first; otherwise, the molecules inside the meat will burst, and its juicy texture will be lost.
Cook the steak at high temperatures. To avoid the formation of bitter substances, use a small amount of clarified butter or vegetable oil (not olive oil). When turning the steak, you should never use a fork as a kitchen tool, as it will cause the delicious meat juices to be lost. The best option is to use a silicone-tipped spatula.