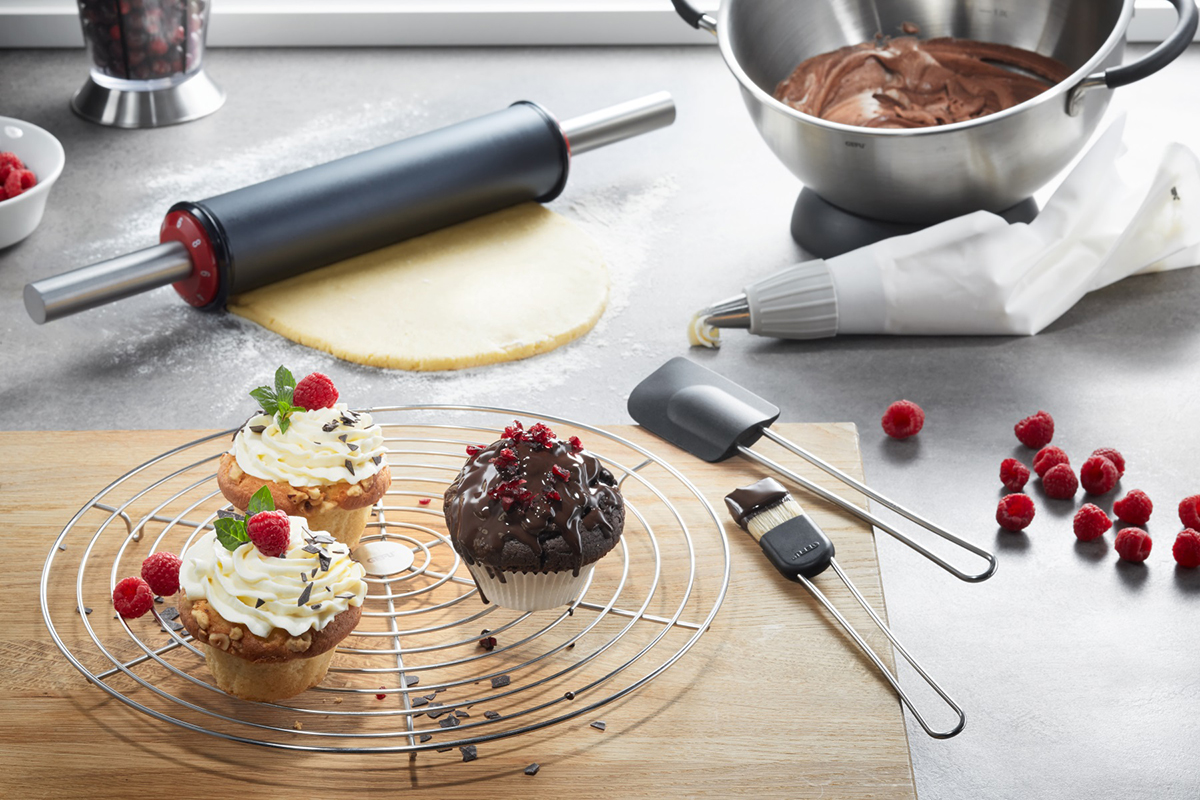 Enjoyment through DIY

Creative Baking
GEFU kitchen helpers for individual baking ideas: Whether it's cakes, muffins, cookies, pies, or other pastries, every homemade dessert tastes special. And it's not just eating delicious sweets that brings joy and brings people together, but the act of baking itself is enjoyable. Even the little ones can lend a hand when baking.
Baking - the passion of all sweet tooths
What kitchen utensils do I need for baking?
Without the right kitchen tools, even the most talented baker can't create anything. There are a few kitchen utensils that are essential in every modern kitchen. GEFU offers high-quality kitchen equipment with excellent value for money.
Bowl, measuring cup, and scale - Your kitchen helpers
Before you can enjoy cakes and other treats, you need to mix together ingredients like flour, sugar, eggs, milk, etc. The bowl should be tall enough to minimize spills while stirring, stable, and easy to handle, like our mixing bowl MESCO with its non-slip handles. The practical internal scaling eliminates the need for an additional measuring cup. Additionally, a good mixing bowl should be dishwasher-safe since doing the dishes is probably the least enjoyable task after baking. To accurately measure ingredients, the SATURAS measuring cup is essential. You can recognize a high-quality and durable measuring cup by its construction, heat resistance, and a clearly readable quantity scale. For many recipes, a kitchen scale is also a necessary kitchen utensil since certain measurements cannot be done using measuring cups or spoons.
Dough scraper and whisk - small, versatile kitchen tools
The PRIMELINE whisk is the perfect mixing tool for simple doughs, creams, and sauces. It comes in three sizes, fits comfortably in your hand, is rigid yet flexible, and allows for quick and efficient mixing. Additionally, an electric hand mixer or a kitchen machine can be useful. To transfer the finished dough into a baking pan without wasting any, a dough scraper is essential. With the flexible dough scraper CREMOSO, you can empty the bowl completely and smooth the dough directly.
Baking pan or baking frame - individual kitchen utensils according to your preferences
Baking pans are essential kitchen tools and come in various sizes and designs. Non-stick baking pans make it easy to release the baked cake, but they are not scratch-resistant. With the tall baking frame UNO, you don't have to worry about the batter overflowing if it rises significantly. In addition to baking frames, there are traditional kitchen helpers like springform pans, bundt pans, loaf pans, and muffin pans, as well as decorative baking pans that can shape your creations into roses or gift shapes, for example.
Brush, piping bag, and cake ring - nice-to-have kitchen tools
To give the finishing touch to your baked goods, small kitchen helpers like a kitchen brush are essential. For example, to glaze a cake with chocolate or lemon icing. Our kitchen brush BECKY features heat-resistant nylon bristles, is hygienic, flavor-neutral, and easy to clean. To decorate cakes, pastries, cookies, or muffins in an appealing way, a piping bag is highly recommended as a kitchen utensil. With a coated, boil-proof piping bag set like our DECORE, you can achieve professional and long-lasting results. Our cake ring TONDO is an adjustable kitchen helper that is easy to clean and flexible, allowing you to realize all your cake dreams.
Rolling pin and cooling rack - kitchen utensils not just for Christmas
For rolling out pasta dough, cake dough, or especially during the Christmas season, cookie dough, you need a kitchen tool like the EXACT rolling pin. You can recognize a high-quality rolling pin by its non-stick properties and its ability to roll the dough smoothly and evenly. To cool your baked goods quickly after baking, place them on an inconspicuous kitchen tool, the ARIO cooling rack. Air can reach your baked goods from all sides, preventing condensation and maintaining the quality of your creations.
Other kitchen helpers
Of course, there are many other kitchen utensils that can make the everyday life of a hobby baker easier and more efficient. For example, the egg yolk separator BLOBBY. With this tool, you can achieve perfect egg whites because it separates the yolk completely from the egg white. The LEMON citrus press or the RAFINO fine grater, which is used for processing lemon juice and zest, can add the perfect touch to your cakes.
Need some baking inspiration?
You can find special baking recipes and cooking recipes in our recipe collection. All of them have been tested and approved by us. Try out selected delicacies and discover completely new dishes.