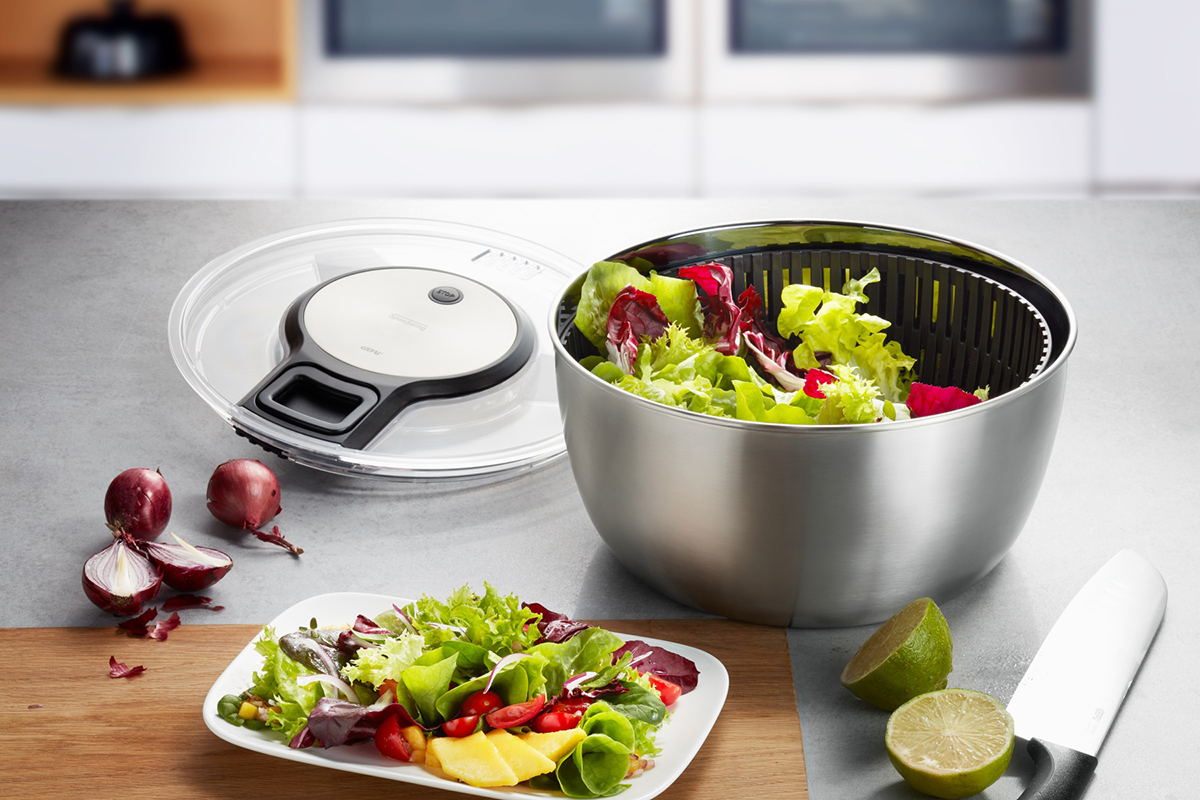 Quality, Functionality, Perfection

Our Kitchen Tools!
Kitchen tools are all the utensils that assist you in cooking and baking, taking on tasks and saving valuable time that you can use for more important things. Because cooking should be enjoyable, but time for important things in life should remain.
Buying Kitchen Tools Directly from the Manufacturer
Which kitchen tools do you need?
In addition to the basic equipment of your kitchen, without which cooking would be nearly impossible, kitchen tools are meant to provide additional convenience. However, there are variations: while some kitchen tools are incredibly practical for almost every cook and should definitely not be missing in your kitchen, there are also more specialized kitchen utensils suitable for specific cooking methods or favorite dishes that you repeatedly prepare.
Time-saving aids for preparation during baking and cooking
Kitchen utensils for food preparation
Practical kitchen tools for serving
Apart from pots, pans, bowls, and cutting boards, good, sharp knives are essential in the basic equipment of your kitchen. Similarly, wooden spoons and utensils are necessary.
These kitchen tools should not be missing in any kitchen:
Kitchen tools for preparation:
Sharp knives are indispensable in a kitchen. Although it may not initially sound plausible, dull knives can actually be more dangerous as they are prone to slipping. Sharp knives glide more easily through fruits, vegetables, and meat. You don't have to exert pressure like you do with dull knives, and the food remains intact and juicy. A set of good, sharp knives in various sizes is essential and indispensable kitchen accessories.
In addition to cutting meat, vegetables, and fruits, you also need a selection of cutting boards. They provide a much better surface than a plate or countertop and offer many advantages. Except for glass and natural stone, regular kitchen countertops are not suitable for cutting. A cutting board is much more hygienic as it can be cleaned in the dishwasher at high temperatures, eliminating any contamination. Cutting on a ceramic surface initially doesn't damage the surface, but the knives quickly become dull. .
The peeler facilitates the peeling of fruits and vegetables, as the name suggests. Its movable blade allows for fine peeling. It is difficult to achieve cleaner, faster, and gentler peeling.
A kitchen grater is also an essential kitchen tool in every household, as it can be used to grate various foods, such as carrots for salads, Parmesan for pasta, or potatoes for delicious pancakes. There is a wide selection of kitchen graters, and you should choose one based on your own requirements.
Finally, the salad spinner is on our list of favorites. Those who enjoy preparing salads frequently will appreciate this kitchen tool and the time it saves. It quickly spins the salad after washing. This is important to prevent the dressing from becoming diluted. The drier the salad, the more dressing it can absorb, resulting in a more flavorful dish.
Simplifying preparation with kitchen tools:
Hygiene and user-friendliness are important when it comes to food preparation. Who wants to burn their fingers or constantly have dirty hands? To avoid both, make sure that the kitchen utensils used for preparation have long handles.
With the pasta tongs and the skimmer, you can remove food from boiling water without spilling it. The pasta tongs are also suitable for portioning pasta dishes. Even stubborn spaghetti can be easily tamed with the tongs.
Stirring spoons and whisks are ideal for liquid dishes. While the stirring spoon is used when you don't want too much air in the dish, the whisk helps to make the food foamy and airy by incorporating air. The whisk also prevents lumps from forming.
The turner is always the utensil of choice when it comes to frying. It can be used to turn vegetables and meat to prevent burning. Thin pancakes and meat patties can also be easily turned, as the flat turner can slide well under the food.
The most important kitchen utensils from GEFU
Kitchen utensils that you should not do without while cooking can be found in high-quality stainless steel in our GEFU shop. For example, choose products from our PRIMELINE series and put together a set of whisk, ladle, sauce spoon, spatula, and grater.
Of course, you can also purchase individual kitchen utensils that you may be missing, but a complete set is also possible, which you can hang directly on the SMARTLINE kitchen rail in a matching design. For relaxed work in the kitchen, all you need are a high-quality bottle opener, such as our classic stainless steel model from the PRIMELINE series, the elegant corkscrew VINOLI, and a high-quality cutting surface like our antimicrobial cutting board LEVORO. Now, with the help of our cookbook holder LIBRO, you can experiment with new recipes without any worries.
What are the different properties of the GEFU kitchen helpers?
Non-stick Teflon coating
Zinc die-casting
High-quality plastic and stainless steel
Dishwasher safe
Space-saving storage
Heat resistance
Practical handling and elegant design
Which peeler is the best?
In our shop, you will find universal peelers like the PRIMELINE swivel peeler made of stainless steel, which is also suitable for left-handers, the cheese and vegetable slicer VERDURA with a Japanese specialty blade, or the ceramic peeler CERAMO. It is important that the peeler feels comfortable in your hand so that you will want to use it regularly, and of course, that the blade is sharp and stays sharp – but you don't have to worry about that with our products.
If you are interested in vegetarian and vegan recipes or place special value on using a lot of fruits and vegetables in your recipes, then it is worthwhile to have specific kitchen utensils, such as special peelers. For example, you can easily peel oranges with the MELANSINA orange peeler, process the zest of various citrus fruits for refined recipes with the CERTO zester, or quickly remove the core of apples and pears with the PRIMELINE apple corer.
The POMODORO peeler with its fine teeth is particularly suitable for removing the skin of tomatoes, peppers, and kiwis, and the unique shape of the FILIGRANO peeler allows you to peel asparagus and carrots quickly and effectively.
It is not possible to say which peeler is the best because it depends on the desired result and your personal preference.
Which kitchen utensils are best for preparing meat?
If you are looking for kitchen utensils that help in the preparation of meat dishes, you will find all the kitchen helpers you need for cooking meat with us: From the practical ground meat divider WHACKER, which evenly divides the ground meat and perfects the cooking result, to the elegant meat tenderizer PRIMELINE, and various grill tongs, according to your personal taste.
The connoisseurs among you should not miss our digital wireless meat thermometer HÄNDI. It helps you prepare your roast with pinpoint accuracy. No matter which meat or cooking level - with the HÄNDI thermometer, you can achieve perfection every time.
When it comes to presenting the meat, our kitchen utensils are just as helpful as during the cooking process. Make use of our roulade rings, roulade needles or roulade clips, as well as the skewers PICCANTE for shashlik and the meat fork BASELINE for serving, so that your dish looks as appealing as it tastes.
Kitchen utensils - Which material should I choose?
When it comes to choosing materials, it depends on the priorities you have in the kitchen. Different materials have their own advantages in terms of design, functionality, or durability. Pros and cons can be found with each material.
Kitchen utensils made of high-quality stainless steel are a timeless classic and are frequently used. Peelers, whisks, ladles, spatulas, and skimmers are often made of stainless steel. The robust material is extremely durable and is considered indestructible. However, it can easily scratch pots or pans. They are not suitable for use with coated kitchen utensils as they can quickly damage them. Additionally, stainless steel utensils conduct heat very quickly, so it is essential to use utensils with solid or insulated handles. On the other hand, cleaning stainless steel utensils is very easy, and they are highly hygienic. Our PRIMELINE kitchen utensils combine the advantages of practical silicone and robust stainless steel. As a result, PRIMELINE products are ideal for coated pots and pans, heat-resistant up to 250°C, and very convenient to handle with ergonomic handles.