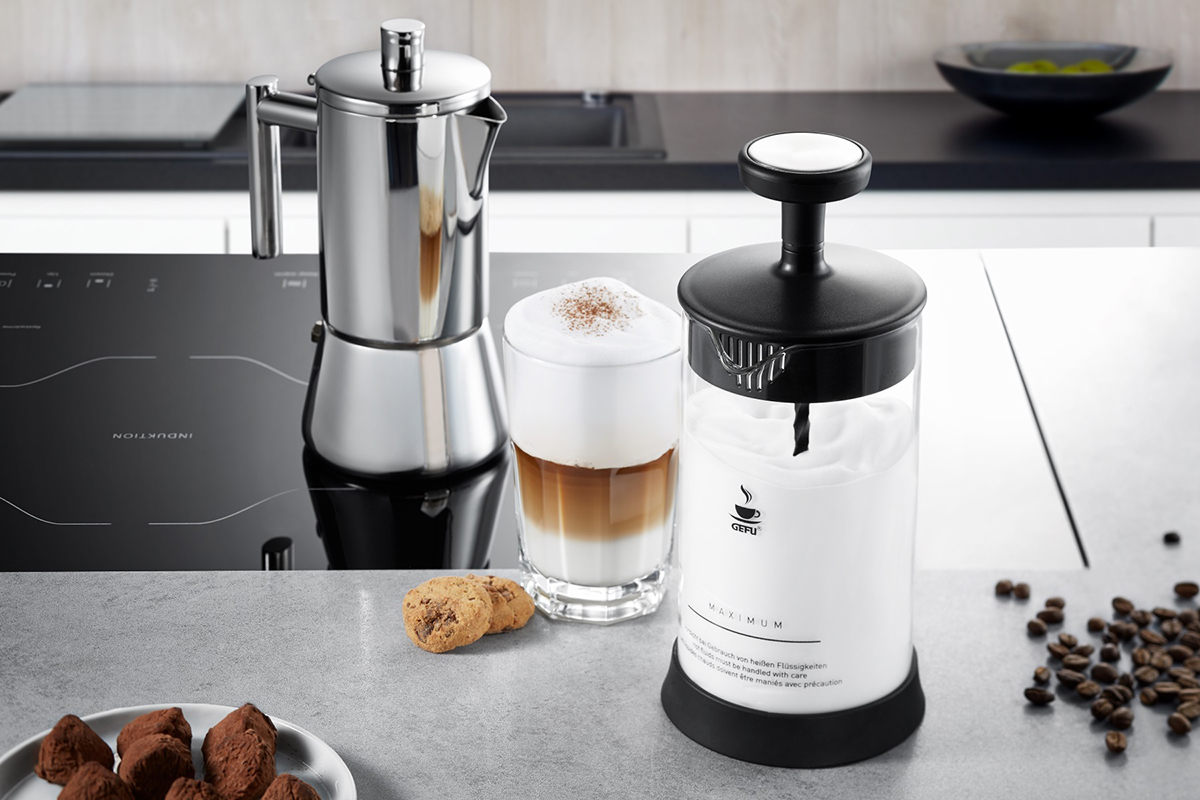 A Delight for All Senses!

Coffee - Tea
Are you Team Coffee, Team Tea, or even both? With GEFU kitchen utensils, it doesn't matter how you prefer to enjoy your favorite hot beverage because our products allow you to create any hot drink in seconds. You can even make ten of them at once. With GEFU kitchen helpers, you can easily bring the flair of a Viennese café to your home. Let our range of products convince you.
Kitchen Helpers for Tea and Coffee - the Perfect Start to the Day
What kitchen utensils do I need to brew a really good cup of coffee?
The kitchen tools you need to prepare great coffee mainly depend on the type of coffee beverage you want to enjoy. With our coffee filter FABIANO, you can easily brew your coffee by hand, and thanks to our innovative drip-stop system, you can dispose of the used paper filter without any coffee stains on your kitchen surfaces or floor in the organic waste bin.
If you skip your morning cup of coffee because you're the only coffee drinker in your household, our kitchen helper, coffee filter SANDRO, made of sturdy yet fine porcelain, allows you to prepare your coffee directly in a cup - without any time loss or effort.
Do you prefer to create your own blend of beans and use freshly ground coffee beans for your coffee? No problem, with the appropriate kitchen utensil: With the coffee grinder LORENZO, you can easily and quickly combine your coffee powder from high-quality beans at home. Store the self-produced ground coffee in the high-quality coffee canister PIERO to ensure that the special aroma is not lost.
How do I make the perfect coffee at home?
The right kitchen helper makes all the difference. The variety of coffee beverages is vast. From espresso, Americano, latte macchiato, cappuccino to caffè latte - using roasted coffee beans or espresso beans, you can create many delicious hot drinks. For the perfect coffee, it's not just about the coffee beans used; the appropriate kitchen utensils add the finishing touch.
With the GEFU kitchen helper, espresso maker LUCINO, you can easily prepare perfect espresso on your stovetop at home without worrying about the temperature. You can find excellent stainless steel espresso makers from us for less than 20 euros.
However, for many coffee drinkers, it's not just about the coffee or espresso itself but especially about the milk foam. With one of our space-saving kitchen helpers, you can effortlessly prepare stable milk foam right at home. Transform warm and cold milk into creamy milk foam quickly with our milk frother RICCARDO.
How do I make delicious tea?
If you're looking for some variety or prefer tea, GEFU supports you in preparing tasty tea with durable kitchen tools. The foundation of any tea is the fruit, spice, or herb blend. The world of tea offers endless possibilities: green tea, black tea, herbal tea, fruit tea, or even unique spice blends can be found at your trusted specialty store. But regardless of the type of tea you love, the right preparation becomes quick and delicious with our kitchen utensils. Pay attention to the correct temperature for each type of tea, easily measured with our digital thermometer SCALA.
What kitchen helpers do I need to brew the perfect tea?
Different types of tea require different water temperatures. For this purpose, we have developed our water kettle CINERO, which features an integrated opening for temperature control using a probe thermometer. Our water kettle is suitable for electric, gas, and induction stovetops. Simply fill your loose tea into the tea egg TEVA, place it in a cup, and add hot water - a perfect cup of tea in minutes. If you prefer to prepare tea in a large-volume teapot, we recommend our tea filter ARMONIA as a kitchen helper, featuring the finest micro-filter structure for successful tea brewing, even in large quantities. .
Sugar dispensers, milk jugs, and more - Must-have kitchen utensils
You can find further additions to your kitchen equipment in our range. Don't compromise on quality and durability because GEFU offers the best products at a great price-performance ratio.