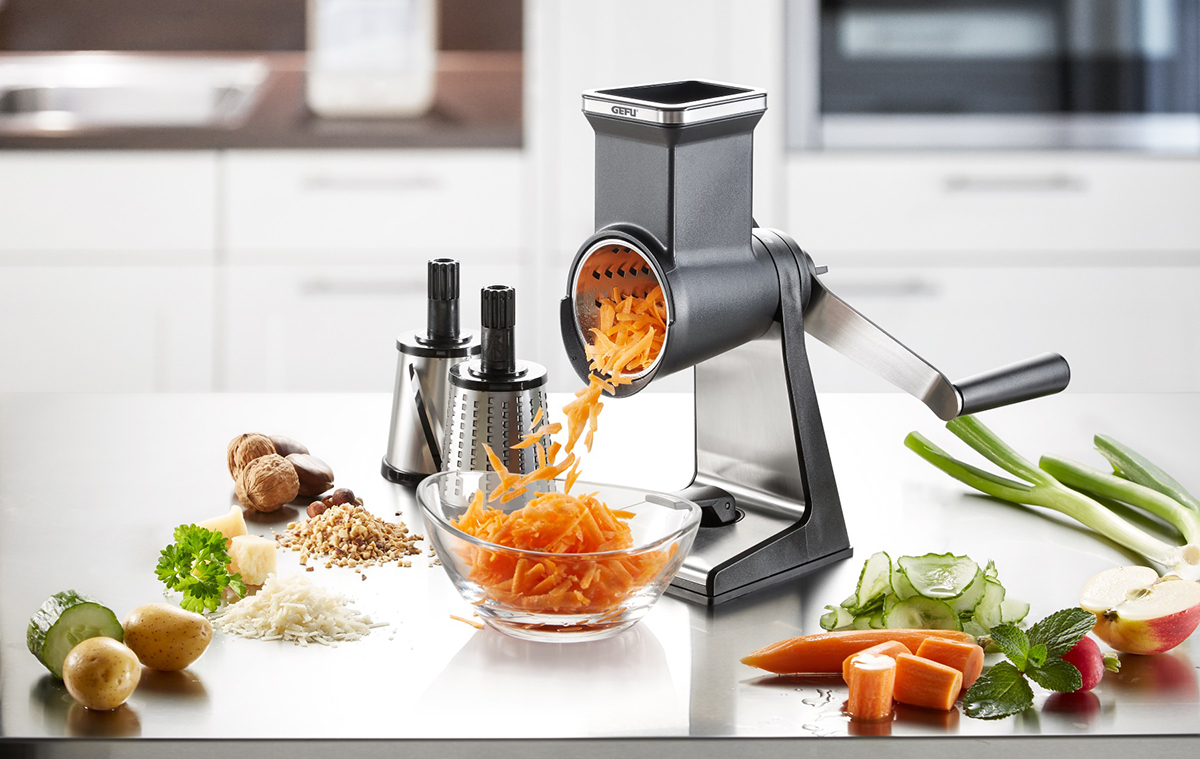 Kitchen Magic

Graters and slicers
Graters made of stainless steel are a frequently used kitchen tool, and therefore, just like a slicer, they should always fit comfortably in the hand. When designing GEFU kitchen utensils, not only beauty but also durability and ergonomics are taken into account.
Kitchen Magic - Grating and Slicing
Stainless steel graters and slicers are kitchen tools that are frequently used and, therefore, should fit well in the hand, just like a slicer. When designing GEFU kitchen utensils, emphasis is placed not only on beauty but also on durability and ergonomics.
In terms of quality, you can rely on the craftsmanship and high-quality stainless steel of GEFU graters and slicers.
What can I use a grater for?
As a versatile kitchen tool, the grater effortlessly shreds vegetables, firm fruits, cheese, chocolate, and nuts. So, if you desire a delicious fitness salad with grated carrots and fine cucumber strips, a vegetable grater or slicer is the perfect kitchen helper. With a square grater, you have a choice of different cutting sizes. On the other hand, a universal grater has only one side, but it offers multiple options for grating by layering.
For quick and safe work, especially with hard foods like nuts, a drum grater is highly recommended. You fill the top with the food, lightly press it down with the plunger, and turn the crank to rotate the drum. There is no risk of injuring your fingers, and smaller ingredients, like nuts, are grated easily and quickly. Our TRANSFORMA® drum grater also provides various inserts, perfect for grating potatoes for dumplings, for example.
For grating nutmeg or chocolate, a fine grater is commonly used as a kitchen tool.
What is the difference between grating and slicing?
When grating, the kitchen tool finely breaks down the food into small pieces or even creates a flour-like consistency. On the other hand, slicing produces slightly thicker strips or slices. For example, when using a cheese slicer, the resulting cheese pieces can be used to top baked goods and pizza or properly cut Parmesan for a salad, as finely grated Parmesan cheese is not usually preferred. The julienne slicer is particularly suitable for Asian dishes. Its fine strips complement most dishes, including salads.
For shredding cabbage, whether white or red, a slicer with a large surface area should be used. If you don't have the appropriate kitchen tool at hand, cut the cabbage into manageable pieces before slicing.
Cheese grater or Parmesan grater, what is the difference?
With a cheese grater, you have the option to grate various types of cheese, such as Gouda and Edam. The Parmesan grater, as a kitchen tool, is specifically designed for grating Parmesan because this cheese is very hard and requires a particularly sturdy grater.
How do I use a spaetzle maker properly?
With the spaetzle maker, you can quickly treat yourself to homemade spaetzle. The dough does not need to be laboriously shredded with a dough scraper but is directly pressed through the spaetzle maker into boiling water. This saves a lot of time and is much easier to handle.
How do I grate nutmeg effectively?
For grating nutmeg, a grater like the fine and coarse PRIMELINE grater is highly recommended. The hard nut requires a sturdy grater, and since the flakes are usually intended to be very fine, this kitchen tool possesses the necessary characteristics.
How do I grate potatoes?
It depends on what you want to make from the potatoes. Finely grated potatoes are very useful for thickening soups and sauces. In this case, the appropriate kitchen tools would be a fine grater or a square grater. For dumplings, potatoes don't necessarily require a grating machine; you can also achieve the desired result with a drum grater. If your desired dish is potato salad or fried potatoes, then the PATO potato slicer