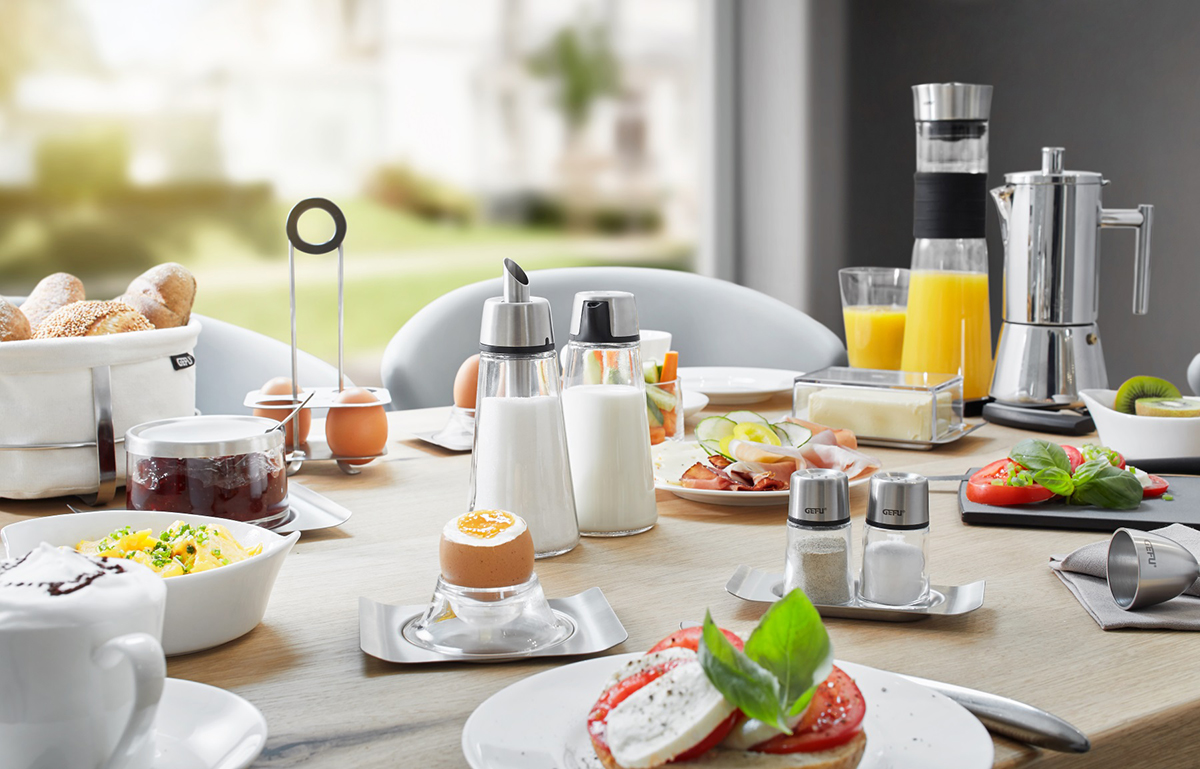 Perfectly covered
pleasure discovered
Our kitchen items are not only useful helpers in the preparation of various dishes - in the modern GEFU design they also beautify any dining table.
Kitchen gadgets from GEFU: Serve at the stylishly set table
Our kitchen items are not only useful helpers in the preperation of various dishes - in the modern GEFU design, they also beautify any dining table. Whether it's a daily meal in everyday life, brunch at the home kitchen table with all your friends or a fancy dinner party with the family, you'll find what you're looking for with our GEFU kitchen utensils!
How do I set a table properly?
If you're hosting a particularly classy dinner, there are certainly still rules to follow - such as the dreaded different cutlery for each course, which should be arranged from the outside in - but for more casual occasions, you don't have to worry about rules these days. Enchant your guests with elegant kitchen gadgets at the table. Just let your creativity run wild, enjoy the time with friends or family and embellish your dining table in the process with GEFU's high-quality designs!
What belongs to a brunch?
It's not only the menu you should think about if you want to invite guests to an extended brunch. At least as important is the appealing presentation, because after all, the eye always eats with you. In our BRUNCH line you will find all the kitchen gadgets you need for a beautiful presentation of your breakfast. Bread rolls must not be missing for you in any case? Choose from different designs of our bread basket and combine it with the jam jar and butter dish.


Brotkörbe zur Aufbewahrung von Brot und Gebäck
Especially when bread, croissants or rolls are fresh from the oven to the table, their taste is at its best. Now, if the baked goods are simply placed in a plastic tray, the moisture will collect and the food will become soft and lose its taste. Therefore, baked goods should always be served in special bread baskets.
The materials used in bread baskets are usually able to absorb water, so the baked rolls stay nice and crispy. There are different types of bread baskets. The most popular are made of willow, but there are also baskets made of metal or plastic. The material used is not as important as the size and shape of the basket. It should be large enough to hold at least a few rolls or croissants.
If you want to buy a bread basket, you need to consider a few things. First, you should think about the size of the basket. It should be large enough to fit at least a few rolls or croissants. Secondly, you should pay attention to the material. The most popular are wicker baskets, but there are also baskets made of metal or plastic. Finally, you should think about the shape of the basket. It should be round or oval to fit on a table.
GEFU bread baskets are characterized by:
Rack dishwasher safe

Fabric basket washable up to 30 ° C
high quality stainless steel / cotton
Should it be a breakfast egg to go with it? With our egg holder BRUNCH you can present the delicacy stylishly in the center of the table and once you have your egg in the noble egg cup, you can prepare it for eating with our egg capper with integrated salt shaker. This is where kitchen tools meet appealing presentation. Typical GEFU design!
Of course, the milk in the coffee may not be missing and our milk jug as a kitchen utensil complements our BRUNCH line to a stylish ensemble of stainless steel, high-quality cotton and glass optics. So the breakfast guests may come at any time!
Arrange the dinner like in the star kitchen? No problem with GEFU kitchen helpers!
You want to effectively use the typical kitchen utensils that are on the set table at every dinner to create a stylish atmosphere at the table? Then you are exactly right with our GEFU kitchen items! Whether it's a daily dinner or the exciting task of hosting, our kitchen gadgets made of high-quality materials will enhance any dining table - and so the food will taste even better!
For example with our DUETO pepper and salt mill, the AROMATICO spice mill and the CASCADA water carafe, in which you can make your drink an eye-catcher - perhaps even with lemon slices or other decorative ingredients. Important kitchen gadgets like the GARDIO trivet or the SPEEDWING salad spinner with integrated stainless steel bowl for dressing combine the useful with the stylish - so you can prepare your food with the kitchen gadget in a time-saving way and bring it directly to the table without compromising on looks. If you would like to conjure up something particularly classy, use our FORMIDABLE professional food rings, with which you can effectively arrange side dishes such as rice, but also desserts. Little effort with great effect!
The perfect party buffet with the kitchen gadgets from GEFU!
You throw a party and want to offer a buffet with various appetizers? Our kitchenware has the design that will make your party an eye-catcher! With our party skewers GALA made of stainless steel or the variant NATURA made of wood, you can arrange various appetizers that immediately look much more extraordinary than simple toothpick snacks.
Many of our kitchen utensils are so practical that you can move your party outside without much trouble. For example, the drinking straws from our FUTURE series, which avoid unnecessary plastic waste. Here, too, you can choose between stainless steel and glass. Worried about hygiene? With the enclosed brush, the straws are clean again in seconds.
The PEPP reusable crown caps can simply be placed on your opened bottle and close it again. So no carbon dioxide can get out and nothing unwanted can get in. Ideal for outdoors, for parties or just for your everyday life: These are the kitchen helpers from GEFU.