Storeganizer

Store food perfectly
GEFU offers an innovative complete system of high-quality food storage containers for safe and space-saving food storage.
The GEFU Storganizer
---
The joy of cooking and baking begins with a well-organized kitchen. For this purpose, GEFU offers an innovative complete system of high-quality food storage containers for safe and space-saving storage of food in kitchen drawers, pantries, freezers and refrigerators - the GEFU Storeganizers. They are not only characterized by timeless design and high functionality, but are also particularly robust and durable. As a result, they help to avoid plastic waste and conserve valuable raw material and energy resources, because the longer you can use a product, the better for the environment. Different sizes and capacities offer application possibilities from lunch boxes to freezer cans. At the same time, they keep food fresh longer and less food has to be thrown away.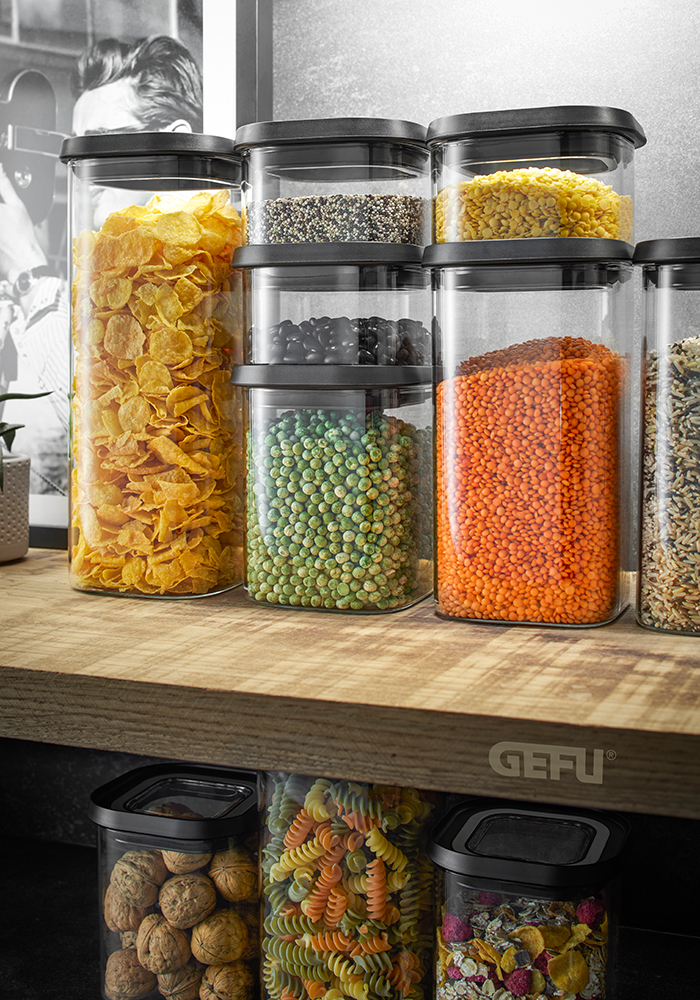 PANTRY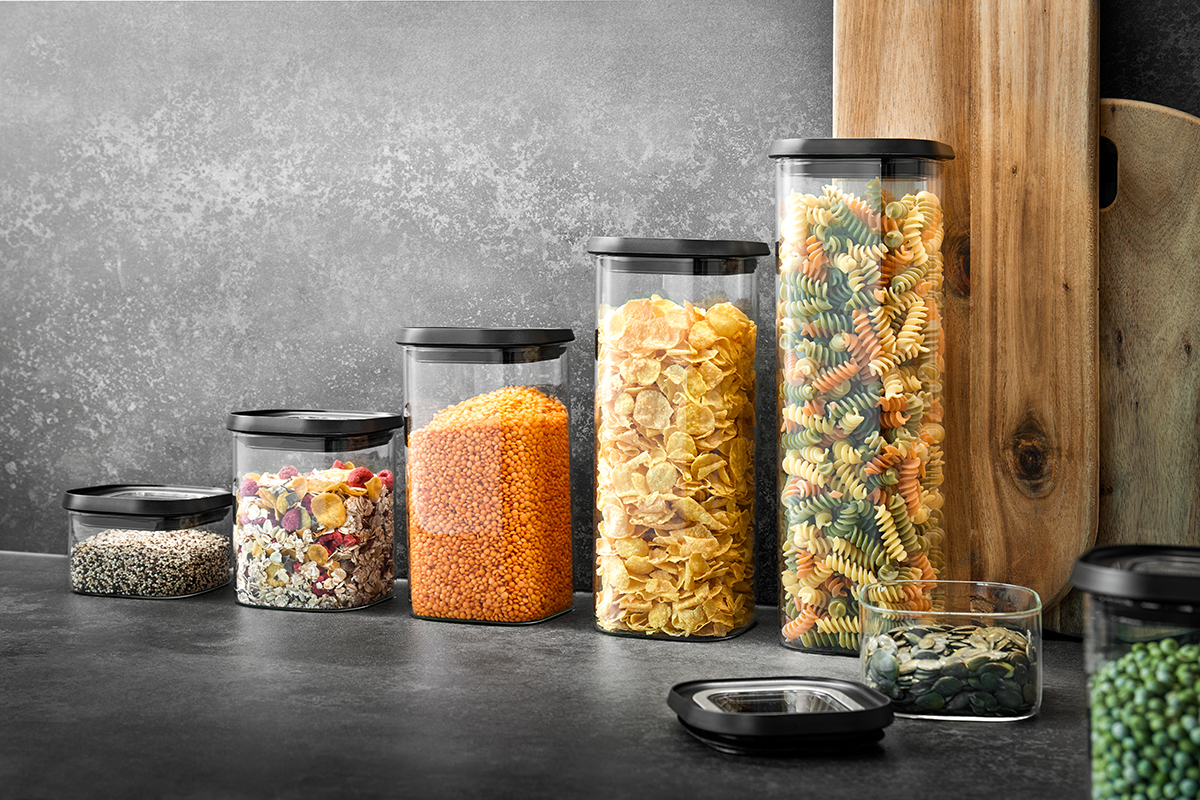 PANTRY - The elegant organizational talent
This is how elegant contemporay storage with a system can look: The transparent storage tin PANTRY in a noble designer look is a real eye-catcher for every modern kitchen. The stackable organizational talent is perfect for space.saving storage of dry foods such a pasta, rice, flour and much more. PANTRY is available in five practical sizes than can be combined with each other as desired and always look particularly good.
space-saving stackable and individually combinable
incl. 3 self-adhesive labels for individual labeling
Borosilicate glass / plastic / high quality stainless steel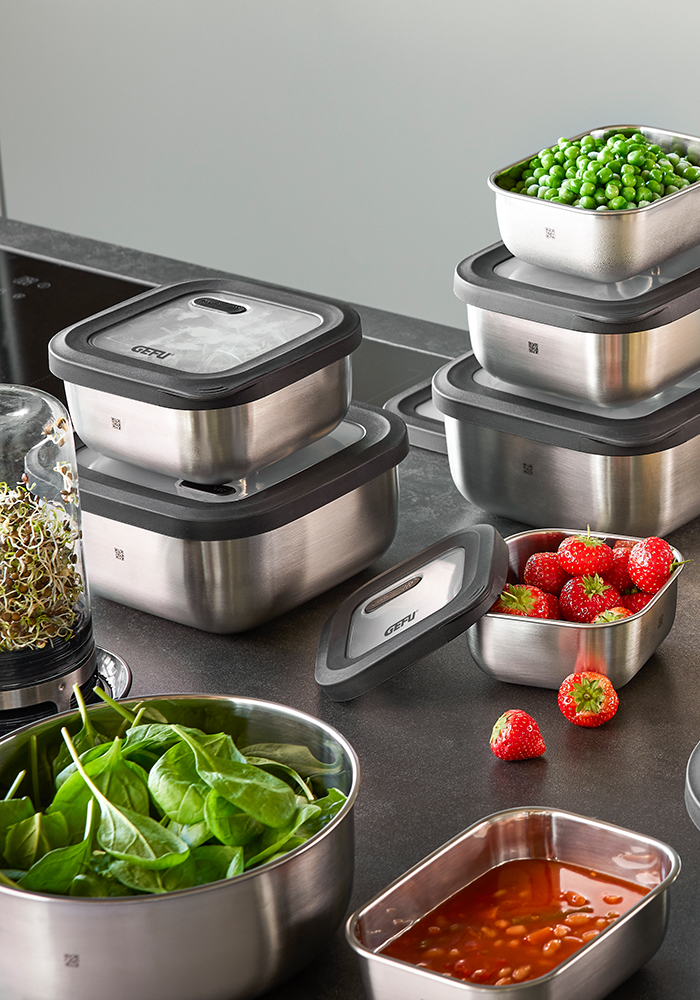 PROVIDO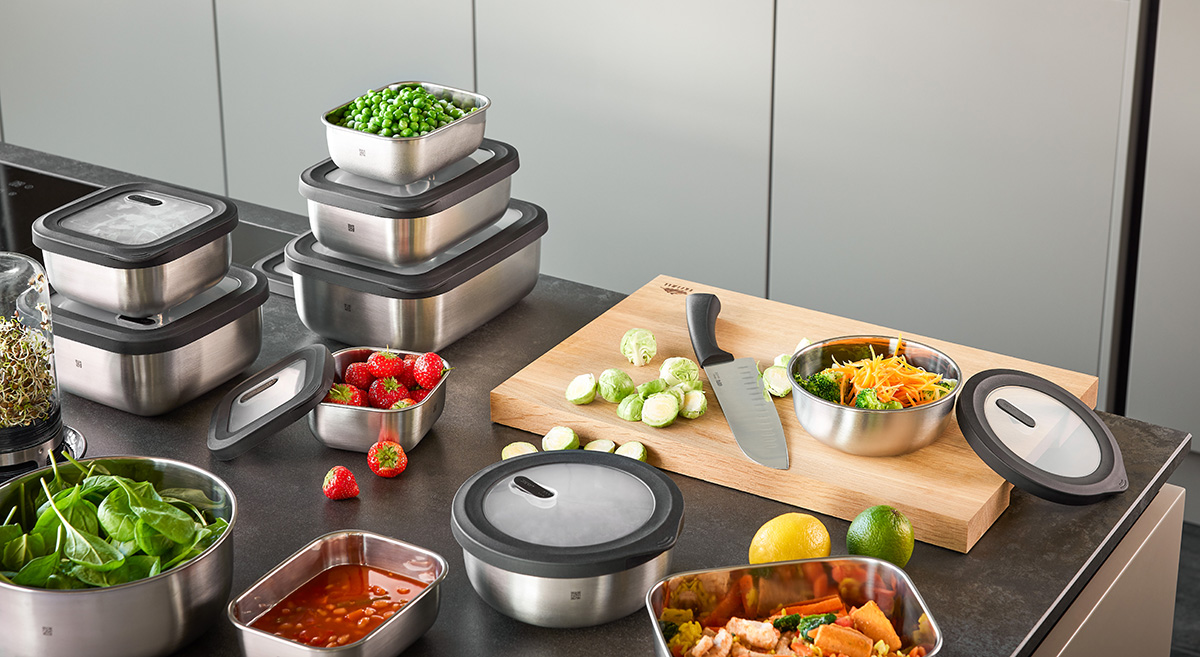 PROVIDO - The Innivative with the Special Valve
The innovative PROVIDO food storage container really gives the competition a run for their money, because it keeps food crisp and fresh in the refrigerator and can be placed directly from the freezer into the microwave to heat up. This is ensured by a special valve in the lid, through which the steam pressure generated during heating can escape safely. Good idea, isn't it? PROVIDO is also equipped with a QR code for optimal stock control and, like all GEFU storeganizers, provides noticeably more order and overview in refrigerators and freezers.
airtight, leak-proof and aroma-proof
lasered QR code for stock control via app (only for Android)
heat resistant up to 300 °C (without lid)
cold resistant up to -20 °C
Lid heat resistant up to 100 °C Can incl.
Lid microwavable thanks to special lid valve (with valve open) - Can must not touch sides of microwave oven
stackable
high quality stainless steel / plastic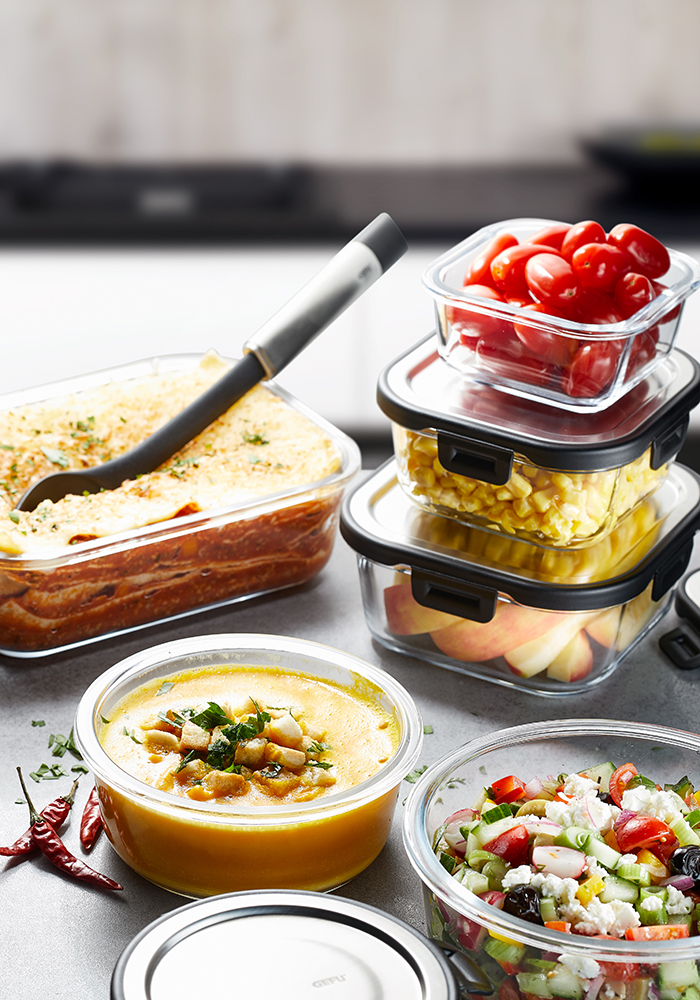 MILO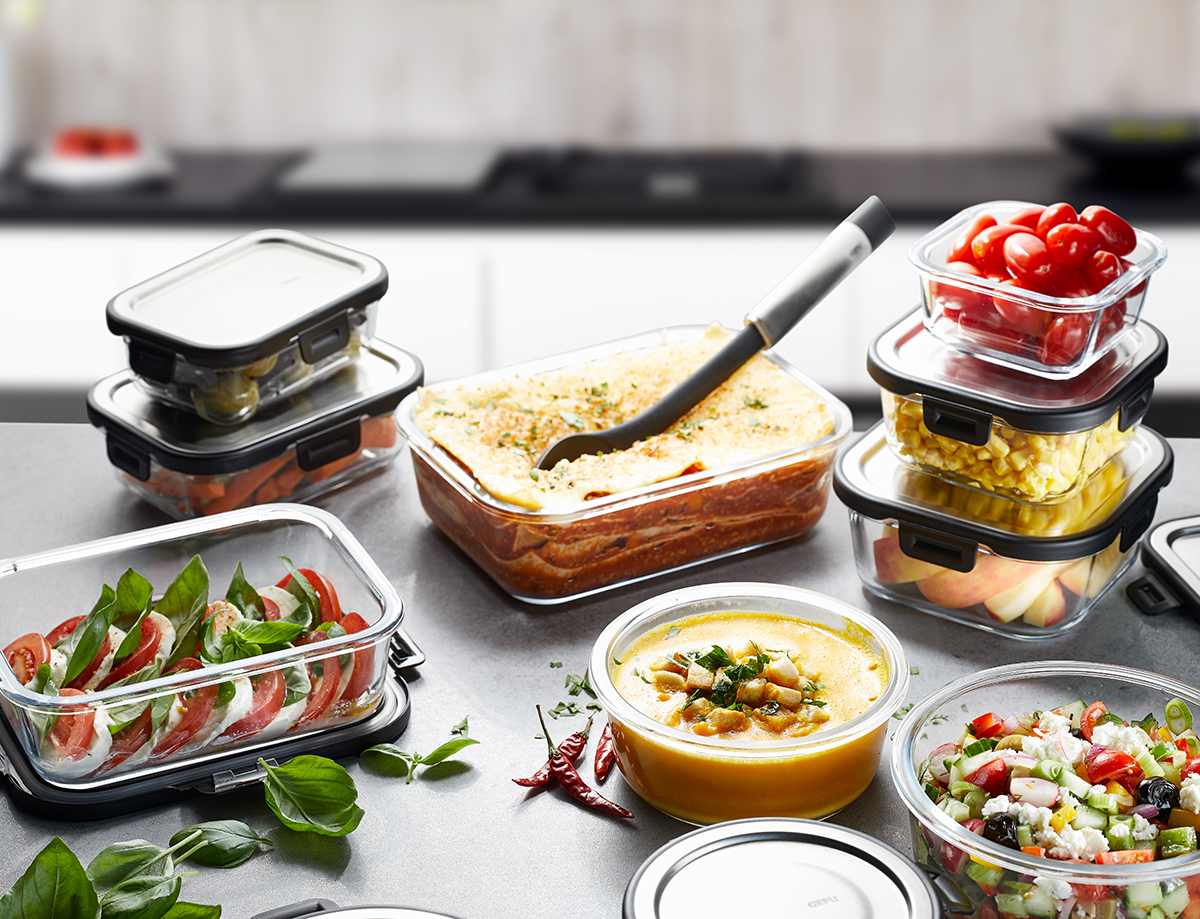 MILO - You beautiful with the click
Refrigerator open, light on: MILO is the top model among the fresh food containers in the household. The practical beauty is immediately recognizable by its high-quality body made of sustainable borosilicate glass and its robust, clickable stainless steel lid with the practical QR code. MILO keeps food fresh for an extra long time, is extremely temperature resistant from the ice-cold freezer to the hot oven. Thanks to the QR code and storage app, stock control is also particularly simple, fast and convenient.
high quality borosilicate glass container with stainless steel lid
leak-proof thanks to silicone seal and click closure
airtight and aroma safe
Container heat resistant up to 300 °C and cold resistant -20 °C
Do not heat lid
oven and microwave safe
Borosilicate glass / high quality stainless steel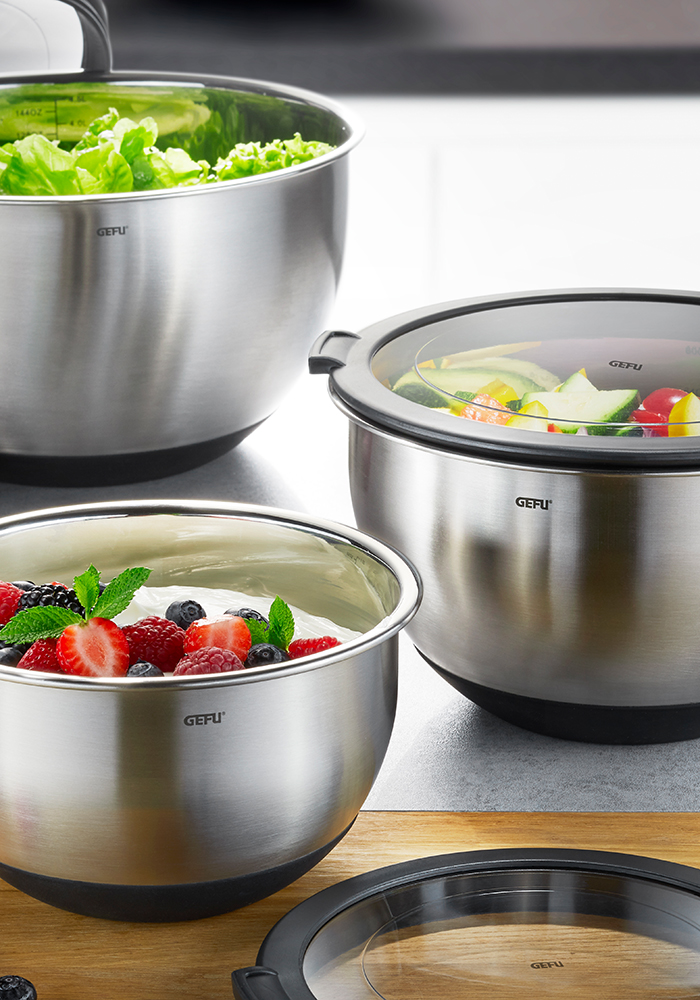 MUOVO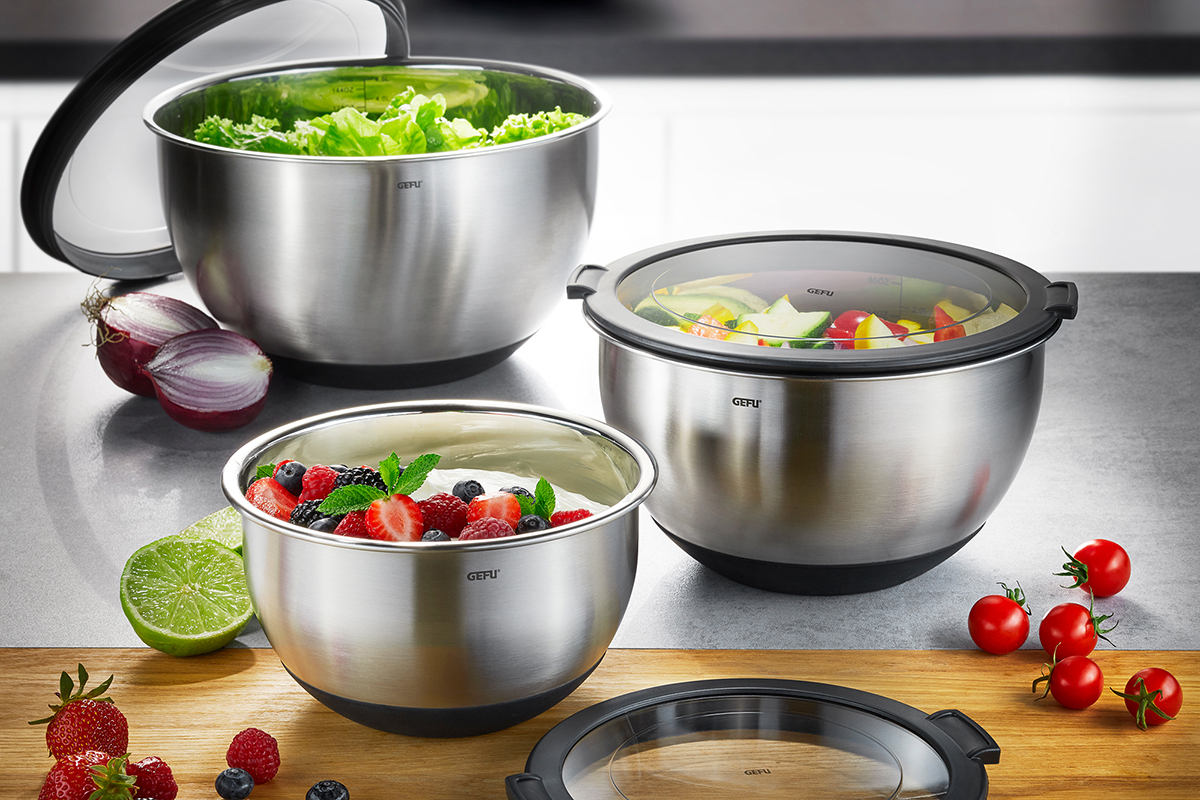 MUOVO - The versatile stainless steel
One for everything, all in one: The MUOVO fresh-keeping bowl is the multifunctional GEFU Storeganizer for preparing, serving and storing fresh food. Its transparent aroma protection lid keeps delicious salads wonderfully crisp and becomes a practical splash guard when whipping cream with just one flick of the wrist. MUOVO also offers a particularly safe stand when kneading and stirring dough and also looks simply great as an elegant serving bowl on any table.
for preparing, serving and storing
incl. airtight storage lid
internal scale: ml / fl. oz
non-slip stand thanks to floor ring
high quality stainless steel / plastic
Recipes for our fresh food cans !
Buying the right food storage container - A guide.
Food waste is a big problem in our society. To keep food fresh longer and avoid waste, you can turn to food storage cans. But how do you find the right food storage container for your needs? In this guide, you'll learn what you should look out for and what different types of food storage cans there are.
Freshness can size and capacity
When choosing a size for a food storage can, you should be guided by the amount of food you want to store. A can that is too small will result in the food not fitting completely inside or being squeezed tightly together, which can affect shelf life. A can that is too large, on the other hand, will take up an unnecessary amount of space in the refrigerator or kitchen and may result in more plastic or other materials being used. So it's important to think carefully about how much space you have for the can and the amount of food you want to store in it in order to choose the right size.
Examples of different sizes:
Size | Dimensions (LxWxH) | Capacity
Small | 10x10x5 cm

|

200 ml
Medium | 15x15x8 cm | 750 ml
Big | 20x20x10 cm | 1,5 Liter
Extra big | 25x25x15 cm | 3 Liter
Different materials for storage tins
Food storage cans come in many different materials. Each material has its own advantages and disadvantages that you should consider when choosing the right food storage can. Below we present the most common materials for food storage cans and explain their advantages and disadvantages.
Plastic
Plastic is the most commonly used material for food storage containers. It is lightweight, durable and often dishwasher safe. Plastic food storage cans come in many sizes and shapes and are often inexpensive. However, one disadvantage of plastic is that it is not very environmentally friendly, and it can also be difficult to clean the cans completely if they have been filled with greasy or highly flavored foods.
Glass
Glass fresh food containers are very durable and can also be used in the microwave. They are often more environmentally friendly than plastic because they are recyclable. Another advantage of glass is that it does not absorb odors or flavors, so food stays fresh longer. However, one disadvantage of glass is that it is heavier and more fragile than plastic, so it can be more difficult to transport.
Metal
Metal fresh food tins are usually made of stainless steel and are very sturdy. They can usually also be cleaned in the dishwasher. An advantage of metal is that it does not absorb odors or flavors and is very durable. However, a disadvantage of metal is that it is heavier and more expensive than plastic or glass.
Beeswax wipes
An environmentally friendly alternative to traditional fresh food tins are beeswax wipes. These wipes are made of cotton and beeswax and can be wrapped around food to keep it fresh. They are reusable and biodegradable. However, one disadvantage of beeswax wipes is that they are not suitable for all foods and often do not last as long as traditional fresh food cans.
When choosing a material for food storage cans, it is important to weigh the various advantages and disadvantages of each material. Plastic is often cheap and lightweight, but not particularly environmentally friendly. Glass is durable and environmentally friendly, but heavier and more fragile. Metal is sturdy and durable, but more expensive. Beeswax wipes are an eco-friendly alternative, but not suitable for all foods. So think carefully about which features are most important for your needs to choose the right food storage container.
What is the locking mechanism?
Storage tins are among the most important kitchen utensils, as they help to keep food fresh for longer and facilitate the storage of supplies. But what closure systems are actually available for storage tins?
A frequently used variant is the hinged closure. Here, the lid is simply folded onto the container and securely closed by a click mechanism. The flip-top closure is easy to handle and enables quick opening and closing. Another option are screw caps, where the lid is screwed onto the thread of the storage can. This closure mechanism is particularly secure and guarantees an absolutely airtight seal. However, opening and closing can sometimes be a bit tedious.
Another type of closure is the swing stopper. Here, the lid is pressed onto the container by a clip and secured. This variant not only looks attractive, but is also very practical, as it is easy to open and close. However, it is not as airtight as a screw cap. Twist-on lids are also an option. In this case, the lid is simply placed on the container thread and secured by turning it. This type of closure is easy to use, but not as secure as a screw cap or swing top.
There are many other variants such as clamp closures or snap closures. Which closure system is best depends primarily on the type of food and the intended use. For sensitive foods such as flour or coffee, for example, a screw cap or swing stopper is recommended. For other foods such as fruit or vegetables, hinged closures or twist-off closures are perfectly adequate. Choosing the right closure system for storage cans depends on many factors. It is therefore important to know the advantages and disadvantages of the different types of closure and to choose according to the intended use.
Closures Materials Advantages Hinged closures Plastic, glass, stainless steel Easy to handle, quick to open and close Screw caps Plastic, glass, stainless steel Especially safe and airtight closure, keeps food fresh longer Swing caps Glass, ceramic, stainless steel Attractive design, easy to open and close Twist caps Plastic, glass Easy to handle, quick to open and close Clamp caps Plastic Quick to open and close, good seal Snap caps Plastic Easy to handle, quick to open and close.
Special functions for food storage containers
Food storage containers are available in many different designs and with numerous special functions. These can not only facilitate the storage of food, but also extend the shelf life of the products. Below are some of the most common functions of fresh food storage cans.
Stapelbarkeit: Viele Frischhaltedosen sind so konzipiert, dass sie platzsparend aufeinander gestapelt werden können. Dies spart nicht nur Platz im Küchenschrank, sondern erleichtert auch die Organisation der Vorräte.
Microwaveable: Some food storage containers can also be used in the microwave. These are usually made of heat-resistant material such as glass or special plastic and have a steam valve function.
Vacuum function: A vacuum function allows fresh food cans to remove air and moisture from the can, which extends the shelf life of the food.
Airtight closure: An airtight closure prevents air and moisture from entering the fresh food container. This is particularly important for foods such as bread, cookies or potato chips.
Modular system: A modular system makes it possible to connect several food storage containers to save space and facilitate organization.
Stacking function: A stacking function ensures that several food storage containers can be stacked on top of each other to save space. This maintains an overview of the supplies and saves space.
Labeling field: Some food storage containers have a labeling field on which the contents can be noted. This makes it easier to quickly find the food you are looking for and prevents mix-ups.
Foldable: Foldable food storage containers save space when not in use and are ideal for travel or work.
Ice cube function: Some food storage containers have a special ice cube function that allows ice cubes to be produced in them. This is especially convenient for preparing drinks or chilling food.
Separate compartment: Some fresh food cans have a separate compartment that is either housed in the same can or stored separately. Here, for example, dressings or sauces can be stored without coming into contact with other food.
The selection of food storage containers with special functions is large and can vary depending on individual needs. It's worth trying out different models and seeing which functions appeal to you the most.
Find the right food storage box with GEFU
GEFU is a brand known for its high-quality and functional kitchen utensils. The company also focuses on quality and sustainability when it comes to food storage tins. The cans are made of robust plastic that is free of harmful substances such as BPA. This makes them ideal for storing food.
Another advantage of GEFU food storage containers is their functionality. They are equipped with various closure systems that ensure airtight storage of food. Stackability and space-saving are also features that stand out in GEFU food storage tins. Thus, they can be stored in the kitchen cabinet or refrigerator to save space.
The design of the GEFU food storage containers is also appealing. They are available in different sizes and colors and thus fit into any kitchen. The company also attaches great importance to customer satisfaction and offers high quality of its products and reliable customer service.
All in all, GEFU offers an optimal combination of quality, sustainability, functionality, design and customer satisfaction with its food storage containers. If you are looking for reliable and durable food storage containers, GEFU is definitely the right address.