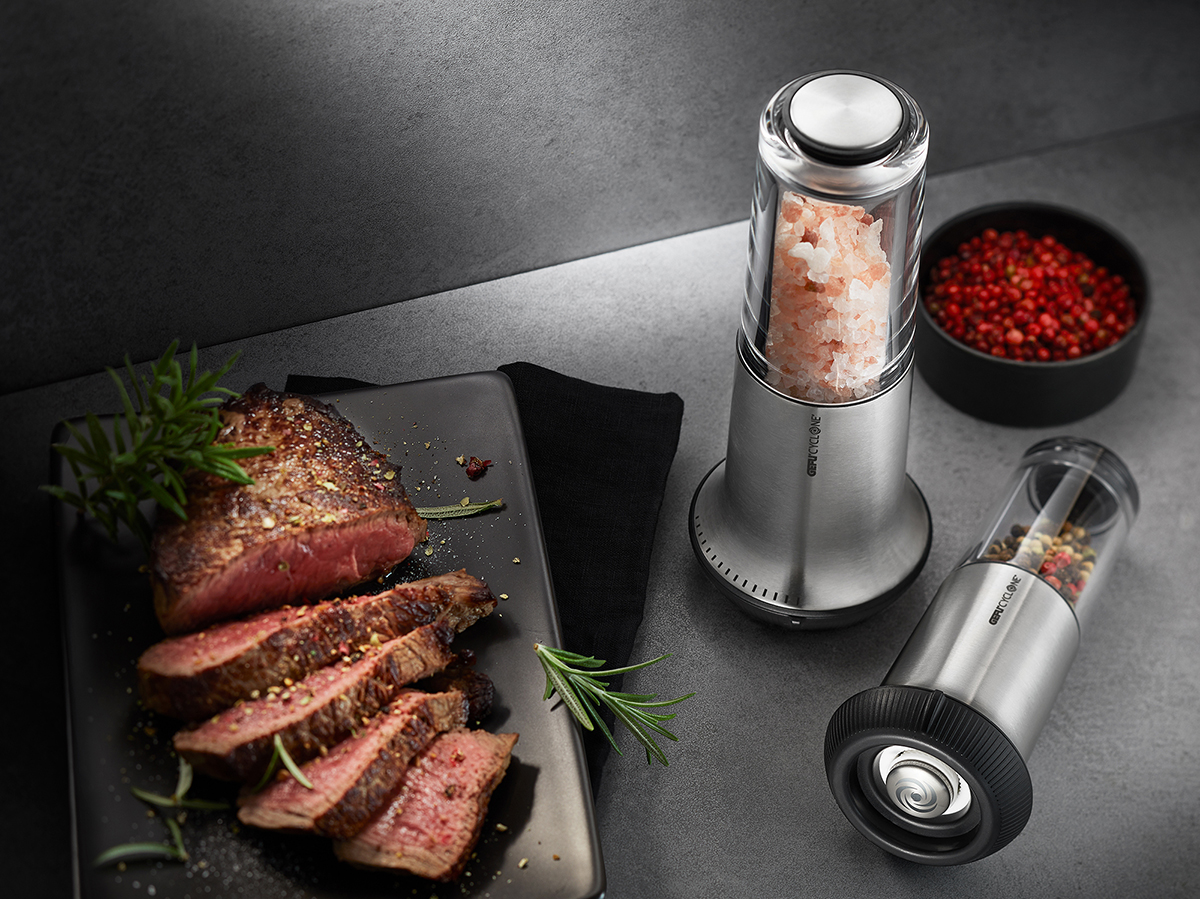 Aroma Power Pur

X-PLOSION®
The new design series X-PLOSION® sets new standards in seasoning with ingenious mills, extra-sharp chili cutters, stylish sprinklers, and other innovations.
X-PLOSION® kitchen tools look impressive, fit comfortably in the hand, and excel in their functionality. X-PLOSION®: that's pure aroma power for today's creative kitchen.
X-PLOSION® Salz- oder Pfeffermühlen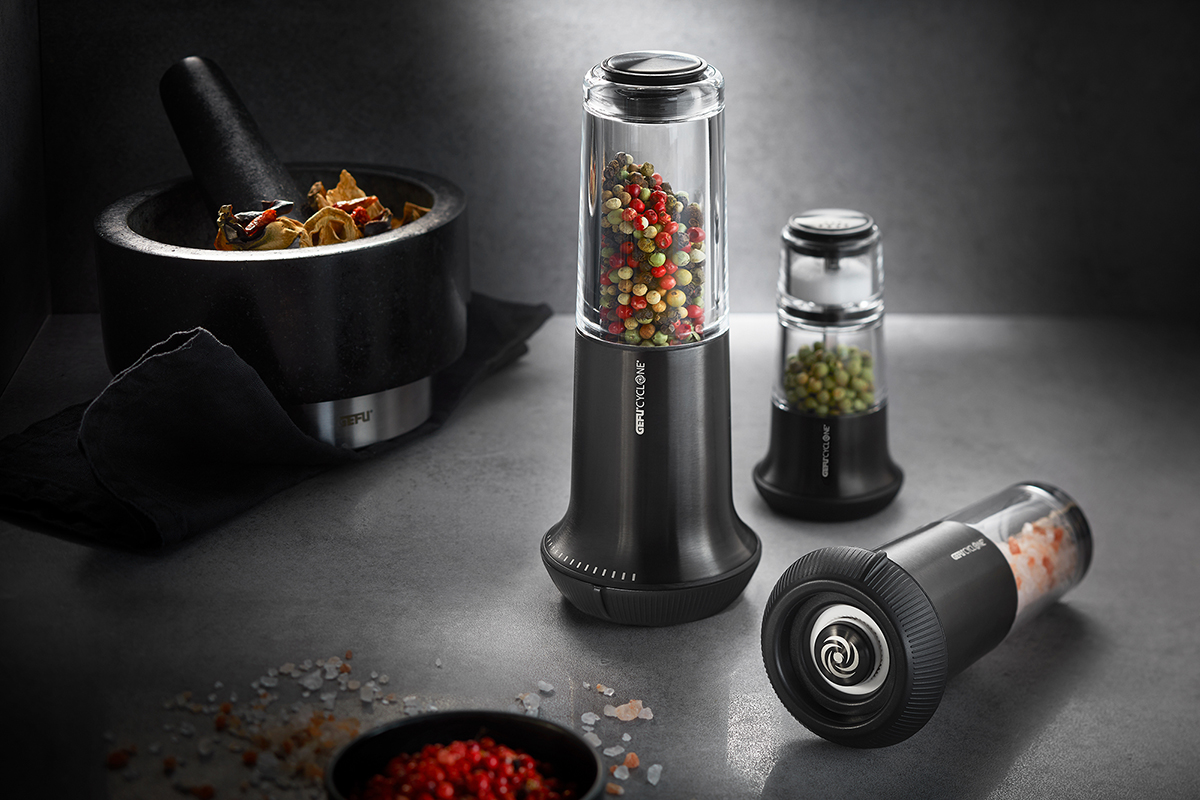 Seasoning with a WOW Effect
Airtight lid
AromaSafe anti-fingerprint surface
Protects the stainless steel from stains and fingerprints and is particularly easy to clean
14/16-step grinding adjustment from extra coarse to extra fine
Symmetrical dual-cone grinding mechanism: the upper section breaks down the spices, while the lower section finely grinds them. Ensures an exceptionally uniform grinding result and highly efficient output
CYCLONE® – Grinding like the Pros Today
The innovative development by GEFU grinds salt crystals and peppercorns exceptionally fast, effortlessly, and effectively. No wonder, as the extra-large CYCLONE® grinding mechanism made of high-performance ceramic is equipped with significantly more teeth than any standard grinder, resulting in 6 times higher efficiency. It has more razor-sharp large teeth that effortlessly break down coarse crystals and grains. It also has more fine teeth that quickly and consistently deliver uniquely homogeneous results at any desired grinding level.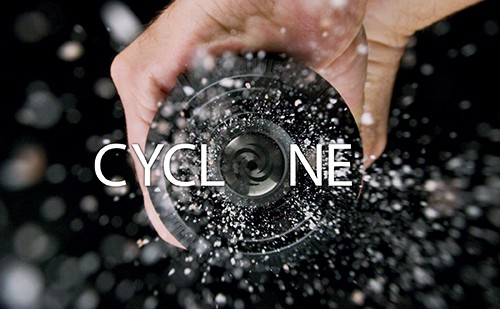 X-PLOSION® Mühlenuntersetzer
X-PLOSION® Spicetower
Pure luxury for spice enthusiasts and ambitious spice baristas. The deep black Spicetower from the X-PLOSION® designer series consists of a solid mortar made of heavy cast iron and a practical lid that also serves as an additional grinding surface and catch tray for the grater. On top of it all sits an elegant conical tower with brilliantly sharp DIAMOND LASERCUT grating surfaces for coarse or fine results, topped with a handle made of exquisite acacia wood. The design of the pestle, mortar, and tower grater is perfectly coordinated, guaranteeing optimal grinding and grating results at all times. The innovative Spicetower by GEFU: There is no more stylish way to spice up your dishes.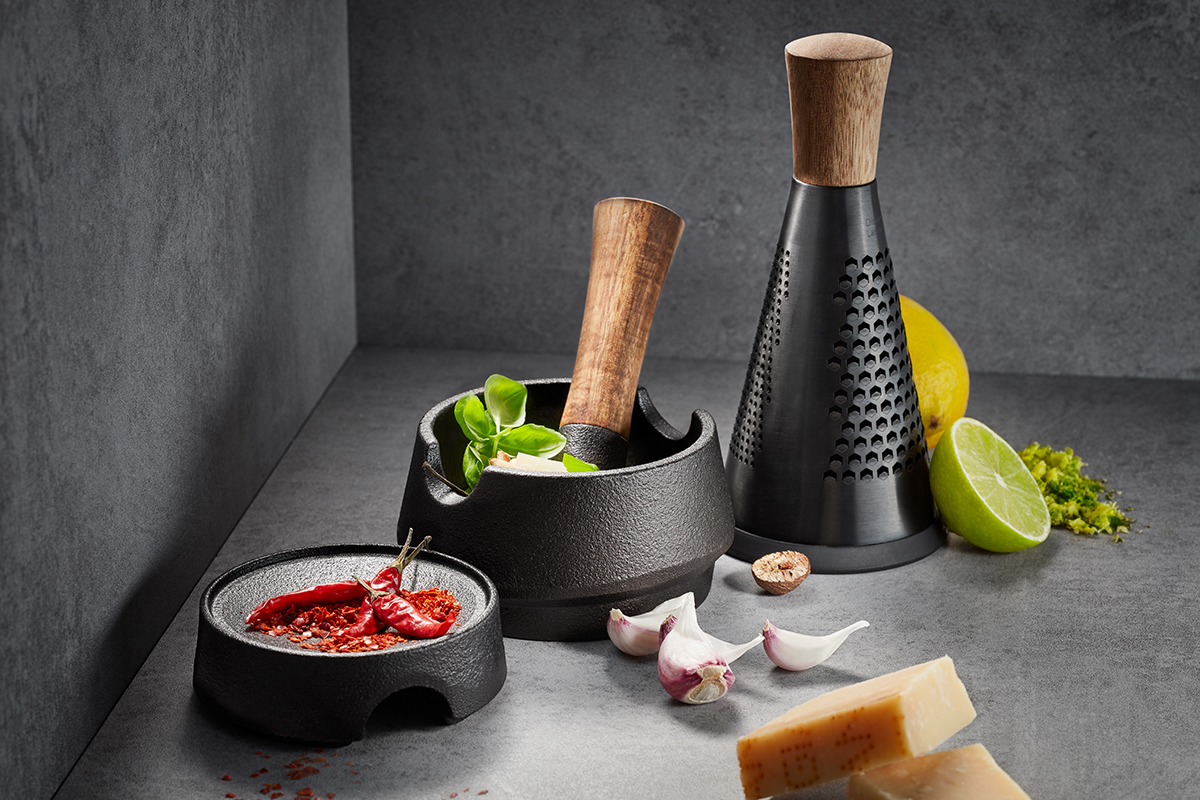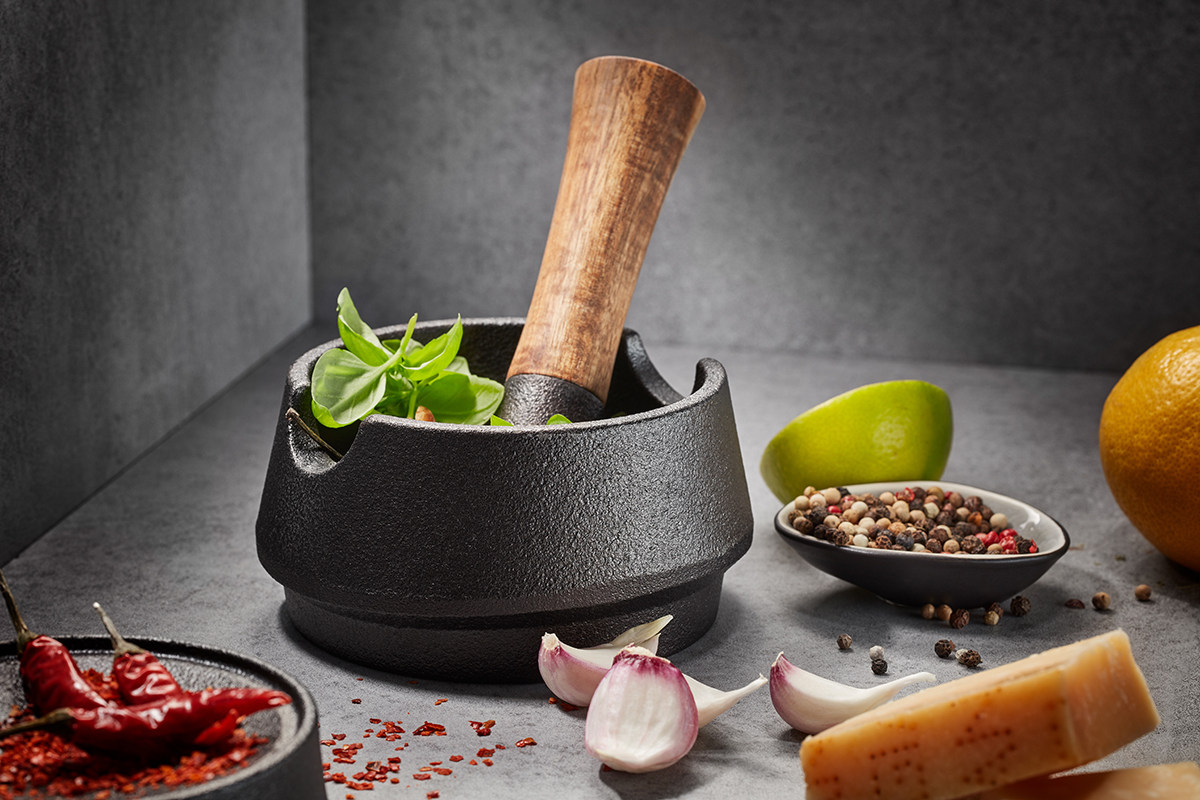 X-PLOSION® Gewürz- und Kräuterstreuer
X-PLOSION® Chilischneider, Gewürzdose & Mörser
X-PLOSION® Chilischneider, Gewürzdose & Mörser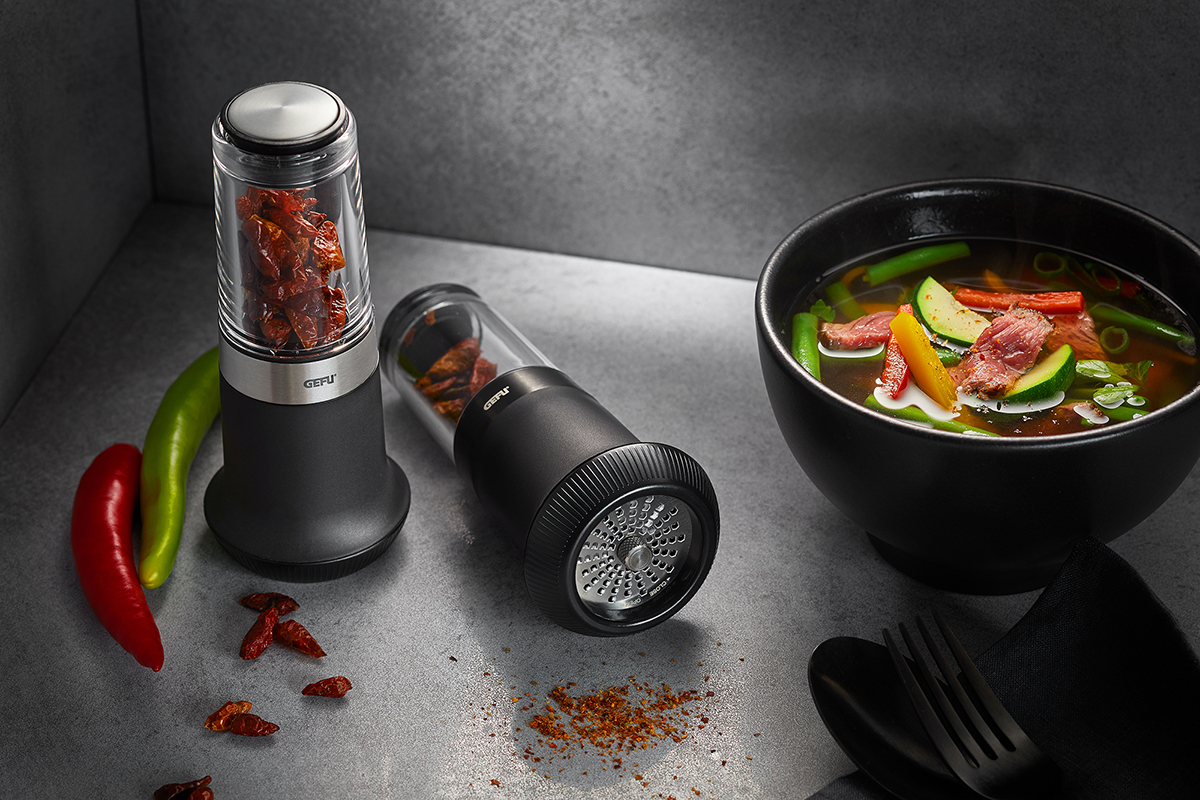 Salt and Pepper: The Basics from the Pepper Mill and Salt Mill
Salt and pepper are essential ingredients that should not be missing in any kitchen and are used daily. Therefore, it is particularly worthwhile to focus on the right quality. GEFU collaborates with the Berlin spice manufactory Spicebar, which offers classics from the spice shelf, such as coarse desert salt in exquisite organic quality. Together with our salt and pepper mills from the X-PLOSION series, every ordinary dish becomes a highlight. The CYCLONE grinding mechanism, made of high-performance ceramic, has extra sharp teeth, ensuring that salt and pepper are ground gently and evenly - to the exact degree of coarseness you desire.
Discover new favorite dishes with the right spices
Cooking in the kitchen would only be half as enjoyable without spices. Luckily, we now have easy access to a variety of spices from all over the world. Diverse spices create new dishes from simple ingredients, and your favorite meals would only taste half as good without the right spices. To savor the intense flavors of your favorite spices, it is crucial to focus on the right quality and storage. The suitable products from GEFU ensure that your spices remain aromatic for a long time and fully unfold their taste even after some time in the spice shelf when their grand appearance arrives.
Must-Have Spices for your Spice Drawer
The vast array of different spices poses a challenge not only for beginners in the kitchen: Which spices do you actually need, and what can you initially do without? Ultimately, the perfect equipment for your spice rack depends on the dishes you particularly enjoy cooking. If you enjoy cooking oriental cuisine, cinnamon and cardamom are a must, and a Mexican dish without chili is unthinkable. To start, it is advisable to build a basic collection of spices: salt and pepper, dried chilies, paprika powder, and various herbs such as basil and rosemary should not be missing from any spice drawer. Then, as you try out new dishes and develop your own style in the kitchen, you can gradually expand your spice rack with more specific spices.
Ground Spices: Well-protected in Spice Shakers
Spices or spice blends that you buy already ground must be sealed airtight and protected from moisture. With our X-PLOSION spice and herb shaker, you have ground spices as well as dried herbs and teas ready with a single gesture. The sealable lid reliably protects the aromas, and the practical labels for individual labeling provide more organization in the spice rack.
Fresh Herbs, Nuts, and Roots: Easily Crushed with GEFU
Some spices unleash their aroma best when freshly processed. This doesn't have to be complicated because with the right kitchen utensils, fresh herbs, nuts, and roots can be easily crushed. The X-PLOSION mortar, made of durable granite and stainless steel, is particularly suitable for this purpose. For ginger lovers, the porcelain mortar with ginger grater SURI is just right, as it serves two purposes at once.
Elegant Design at GEFU: Seasoning for All Senses
How should spices be stored? The answer is: in an aroma-preserving manner and with elegant design! After all, the eyes also eat and not just on the plate. Salt and pepper mills, as well as spice jars, that are placed on the table during meals, should ideally please not only the palate but also the eye. This is the goal we pursue with the design of our collections, and our various salt and pepper mills adapt to your personal style. From the classic salt and pepper mill FLAVIO to the modern design of the double mill LAMOLA and the rustic TEDORO series, there is something for every taste. You will gladly place the X-PLOSION salt and spice jar on your table - not only for seasoning at the table but also for stylishly presenting dips and sauces. GEFU: Unique dining experiences - for the palate and the eye.