Perfect Grill Moments

Bobby 030 BBQ
"The grill and BBQ blog from the capital city.
Grilling is always a good idea, almost anywhere, because grilling is like cooking, just a little more awesome!
The love for BBQ always comes first for me. My goal is to infect you with the BBQ virus through simple dishes, tips, tricks, and delicious recipes.
See you at the grill...
Hugs, Bobby"
Bobby 030 BBQ
Ran an den Grill
Tipps, Tricks und Must Haves von Bobby
Grilling Tips from the Pro
Bobby's Tip for the Perfect Steak
The thicker the steak, the easier it is to grill. This allows you more time to focus on reaching the desired internal temperature.
Pro Knowledge about Patties
Burger patties can be grilled from frozen! This way, you can freeze homemade patties in advance and save time during preparation.
To Season Before or After?
Opinions vary on this matter, so do it however you prefer! My TIP: If seasoning before grilling, use only salt and a pinch of coconut blossom sugar. It enhances the flavor and caramelizes beautifully on the steak.
Make Your Own Marinade!
Homemade marinated meat simply tastes better. So, stay away from pre-marinated meat!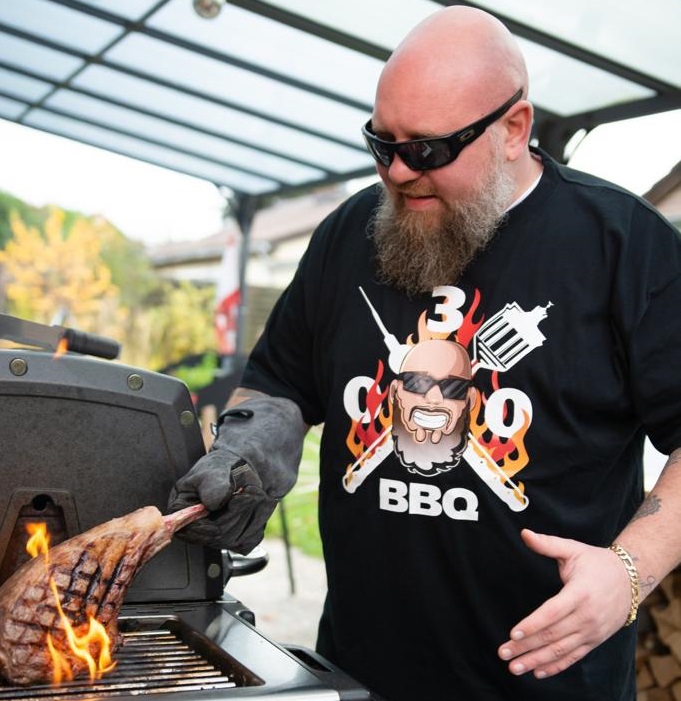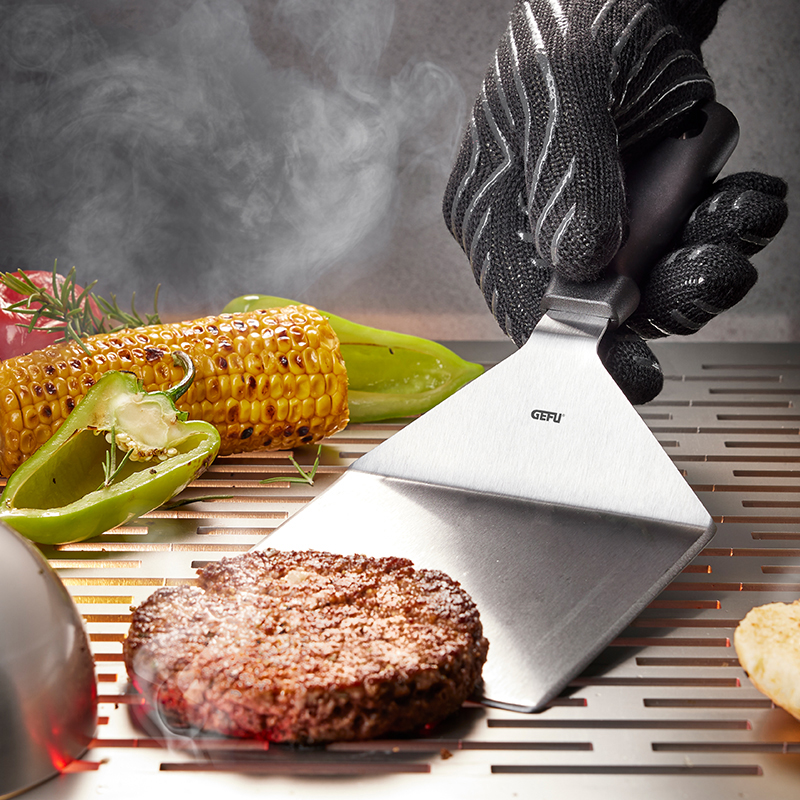 Vegetables Belong on the Grill!
GEFU kitchen tools offer various options to make grilling vegetables a breeze. Gone are the days when vegetarians or vegans were limited to just bread and a bit of salad at grill parties. Nowadays, there are countless vegetarian dishes that can be prepared on the grill, and vegan recipes are also becoming more common. For example, you can use our grilling pans in different sizes to grill vegetables or potatoes.
Grillpfannen & Grillspieße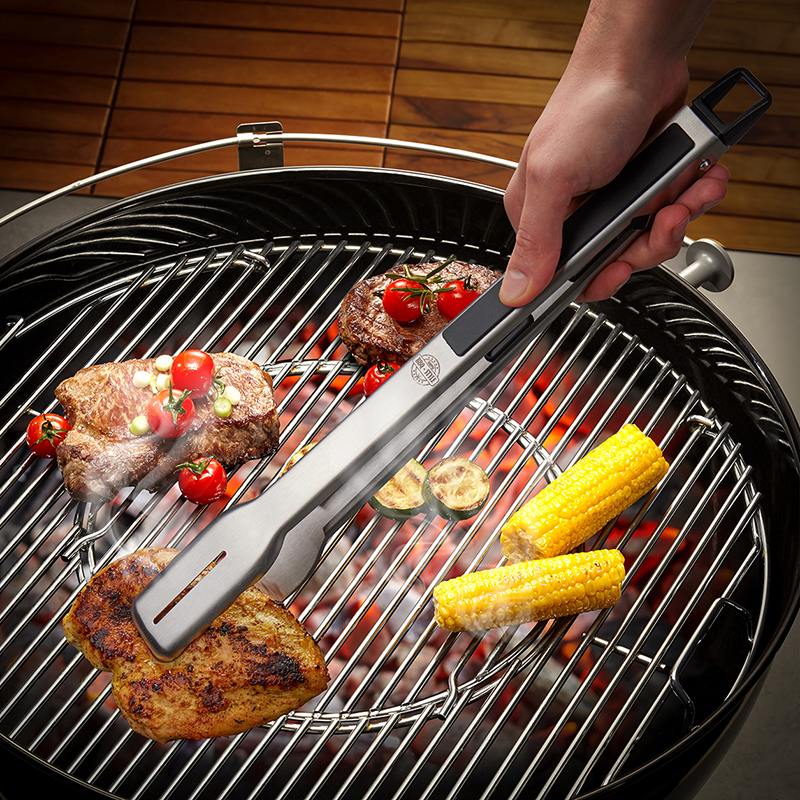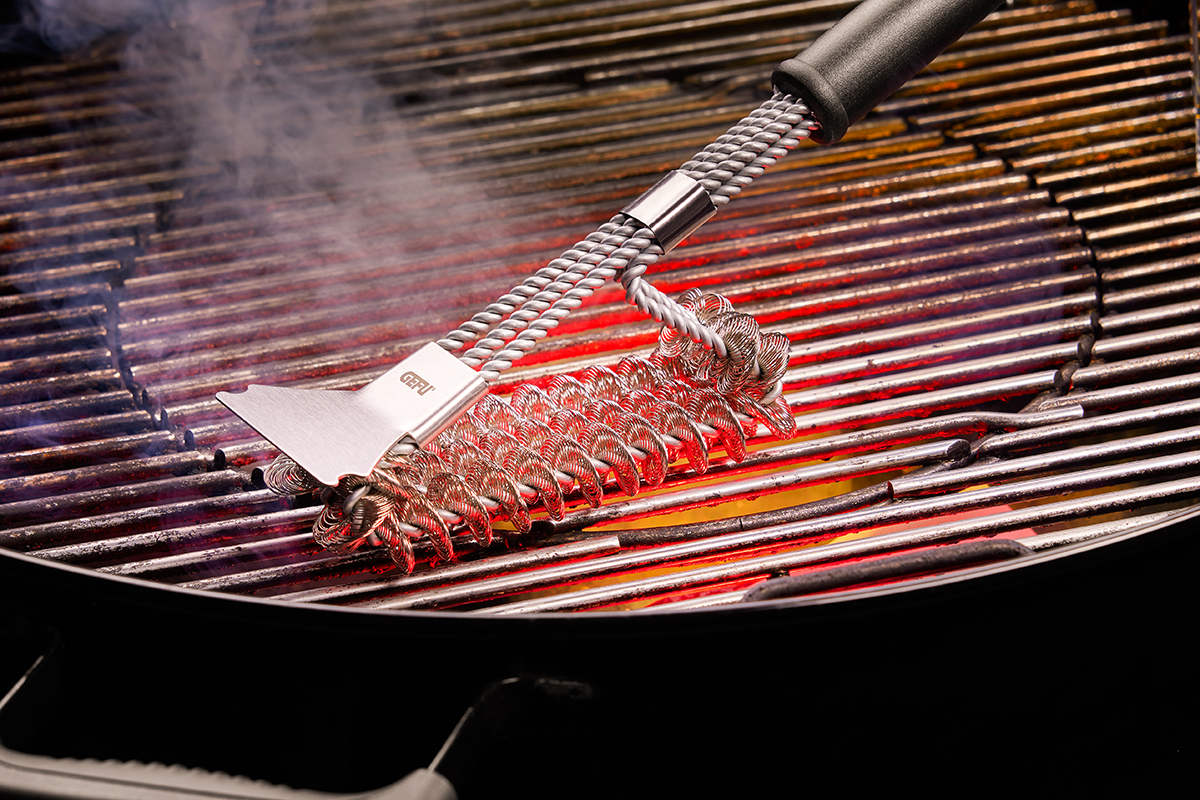 Cleaning the Grill Grates with a Grill Brush
For a professional cleaning of the grill grates, a grill brush is the best solution. High-quality models are equipped with brass or stainless steel bristles and a scraper for stubborn dirt. It is important to choose the right material for your grill grates, as using the wrong brush can cause scratches. With lower-quality brushes, bristles may also come loose, which can end up in your food. For cast iron or enameled grates, you should only use brass brushes. To achieve optimal results, we recommend cleaning the grates with the brush immediately after grilling while they are still warm. For the next grilling session, clean the grates again with the grill brush after they have been heated up.
Grillbürsten für jeden Rost!