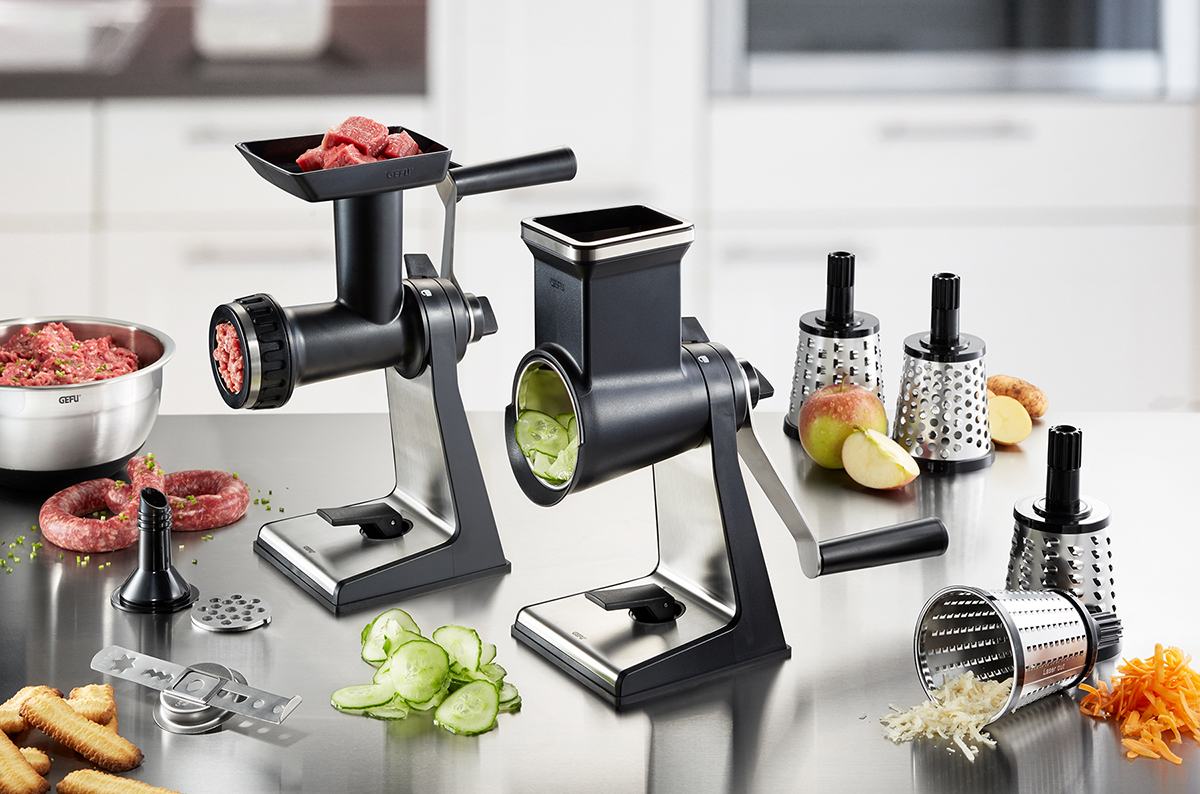 Grate quickly, enjoy perfectly

Meat grinder & drum grater TRANSFORMA
Meat grinder and drum grater - A kitchen appliance for many applications:
With the TRANSFORMA, you save valuable time in the kitchen while always achieving perfect results. Whether you're experimenting with new recipes or preparing your favorite dishes, this kitchen helper stands faithfully by your side. Explore the world of effortless grating and slicing with the TRANSFORMA by GEFU - an essential tool for every culinary creation.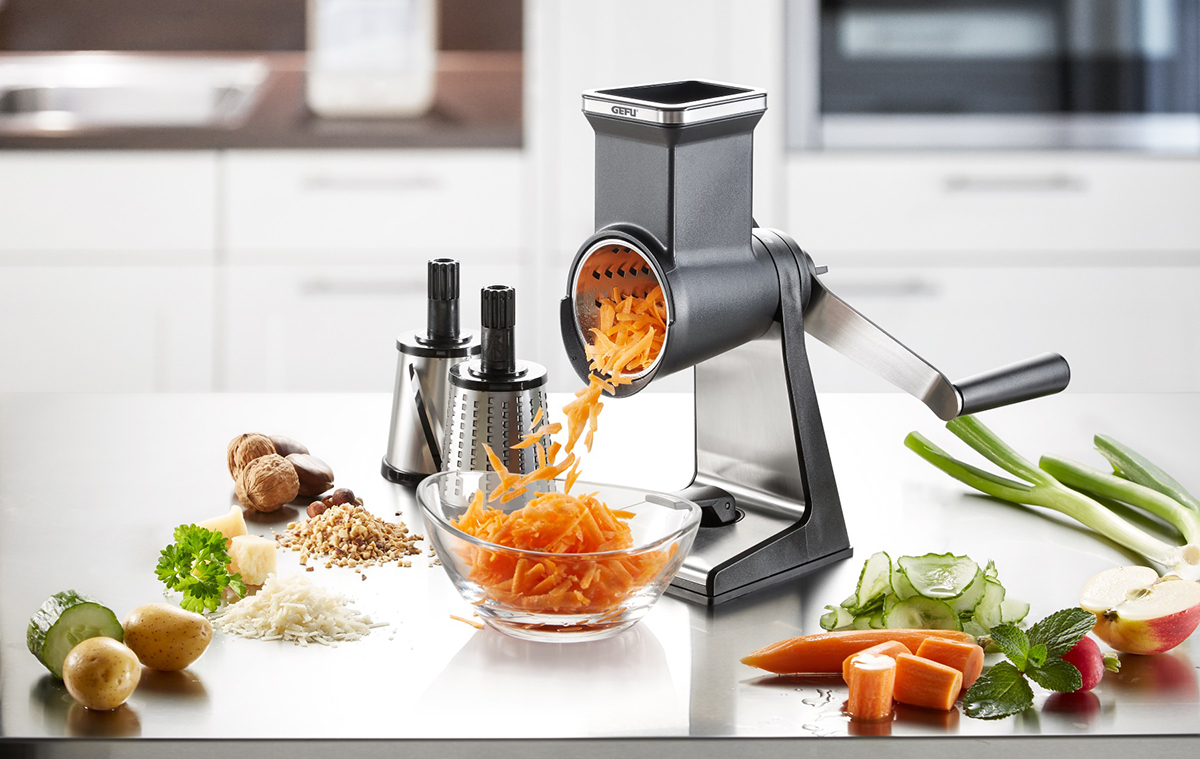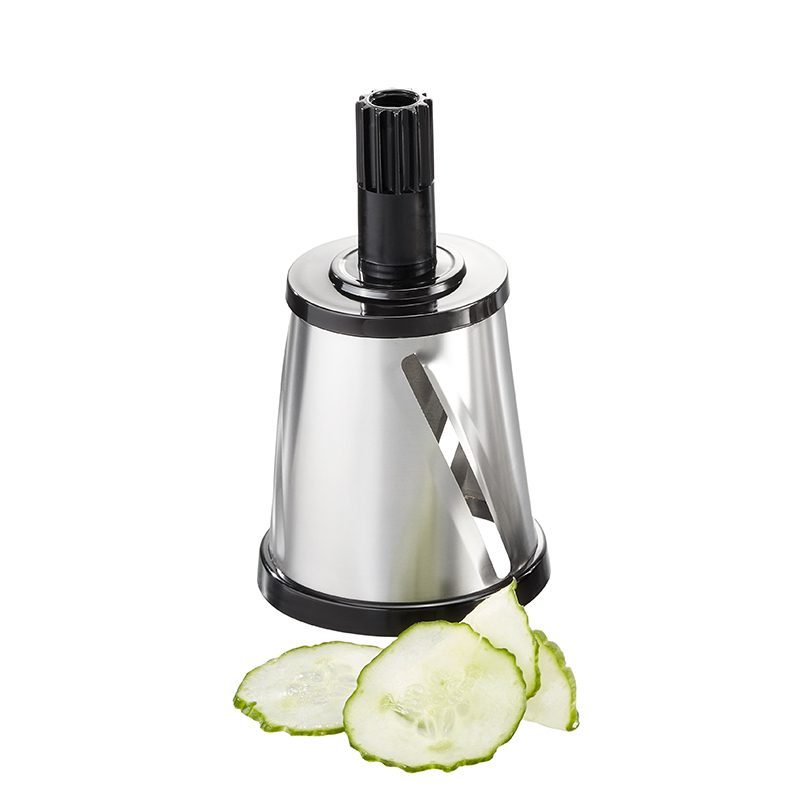 Thin Slices
Whether you need fine cucumber slices for salads, delicate zucchini slices for vegetable dishes, or paper-thin cheese slices for your cheese platter, this drum effortlessly handles the task.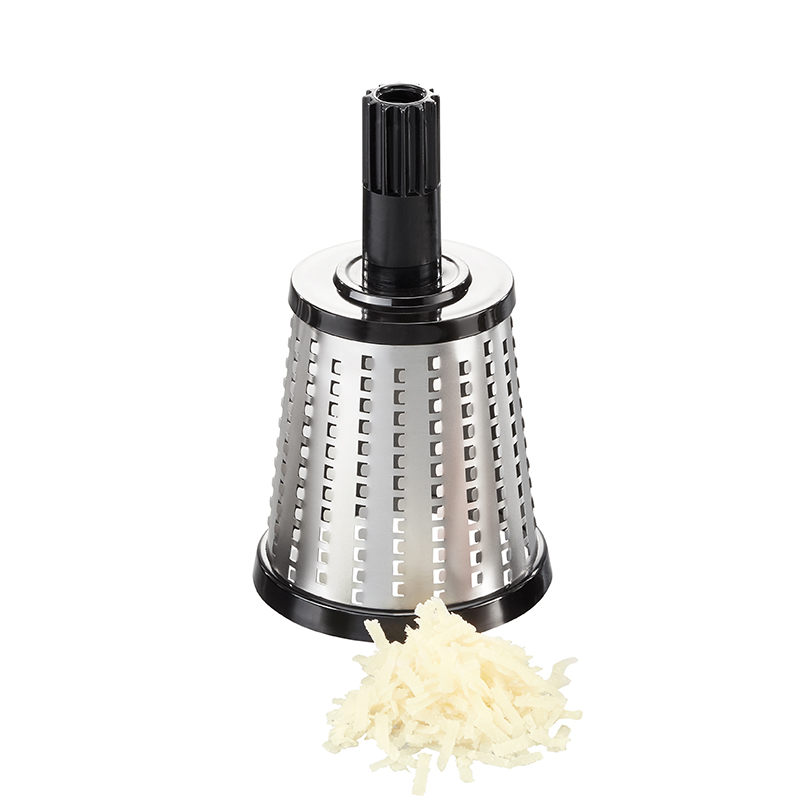 Fine Flakes
The TRANSFORMA® drum for fine flakes is specially designed to make it easier for you to create fine flakes from ingredients such as potatoes, vegetables, hard cheese, or chocolate.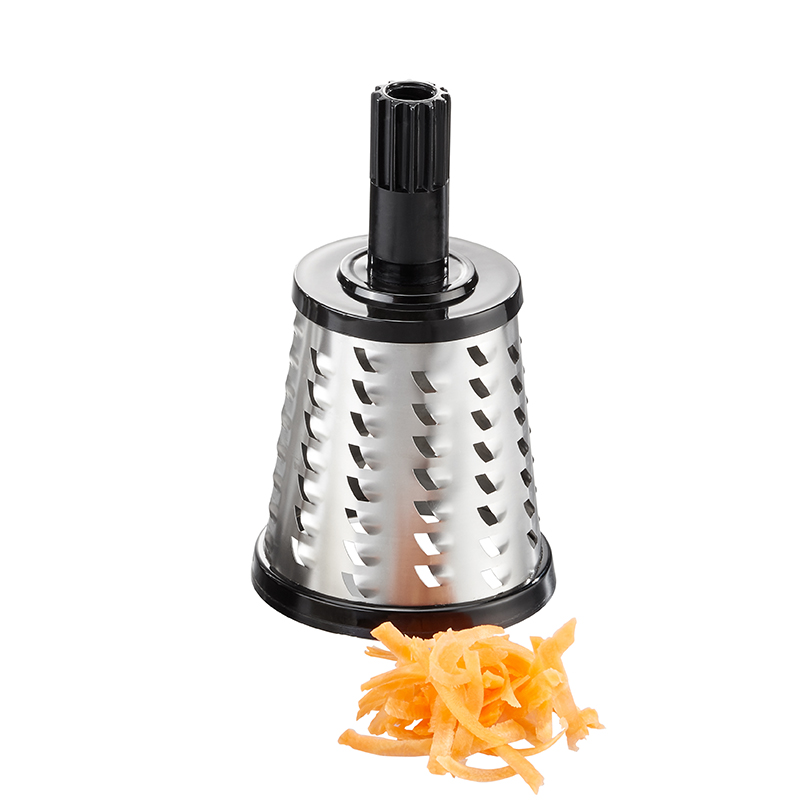 Coarse Grating
Whether it's fresh carrot shreds for crisp salads, rustic apple shreds to enhance desserts, or coarsely grated cheese for your favorite dishes, the TRANSFORMA® achieves the desired variety of results.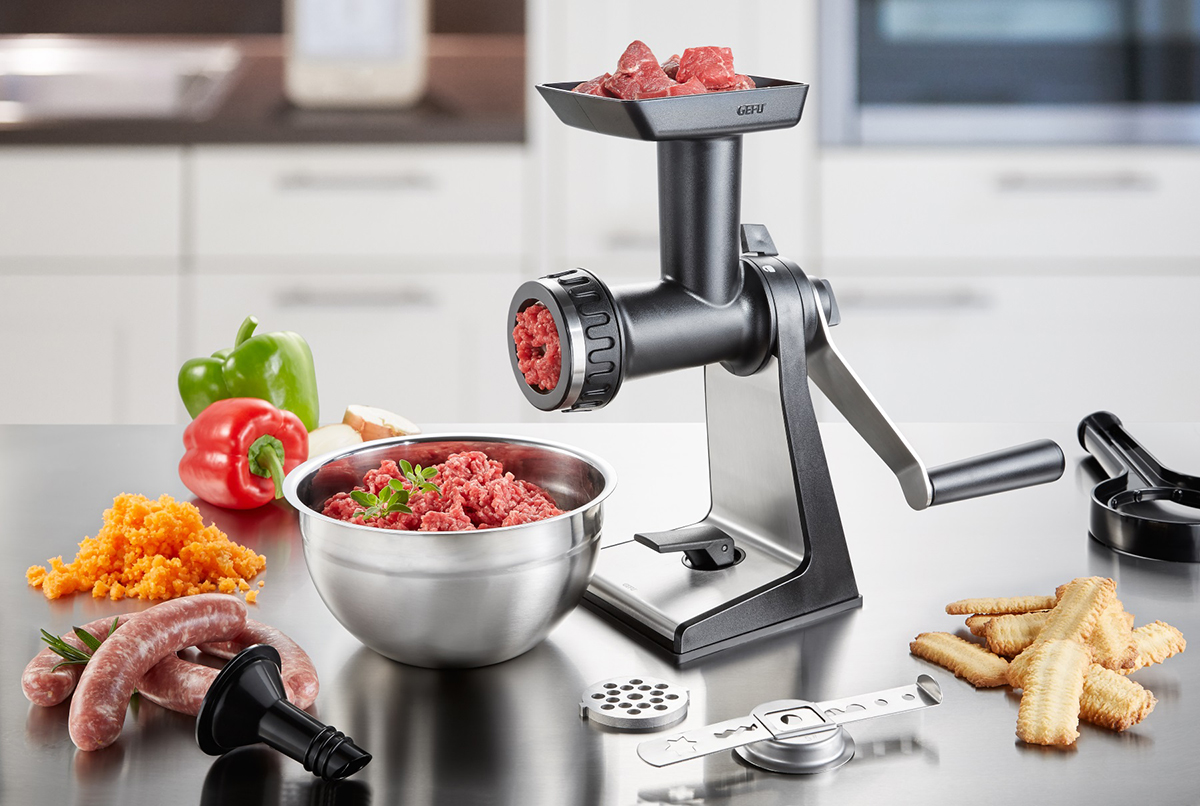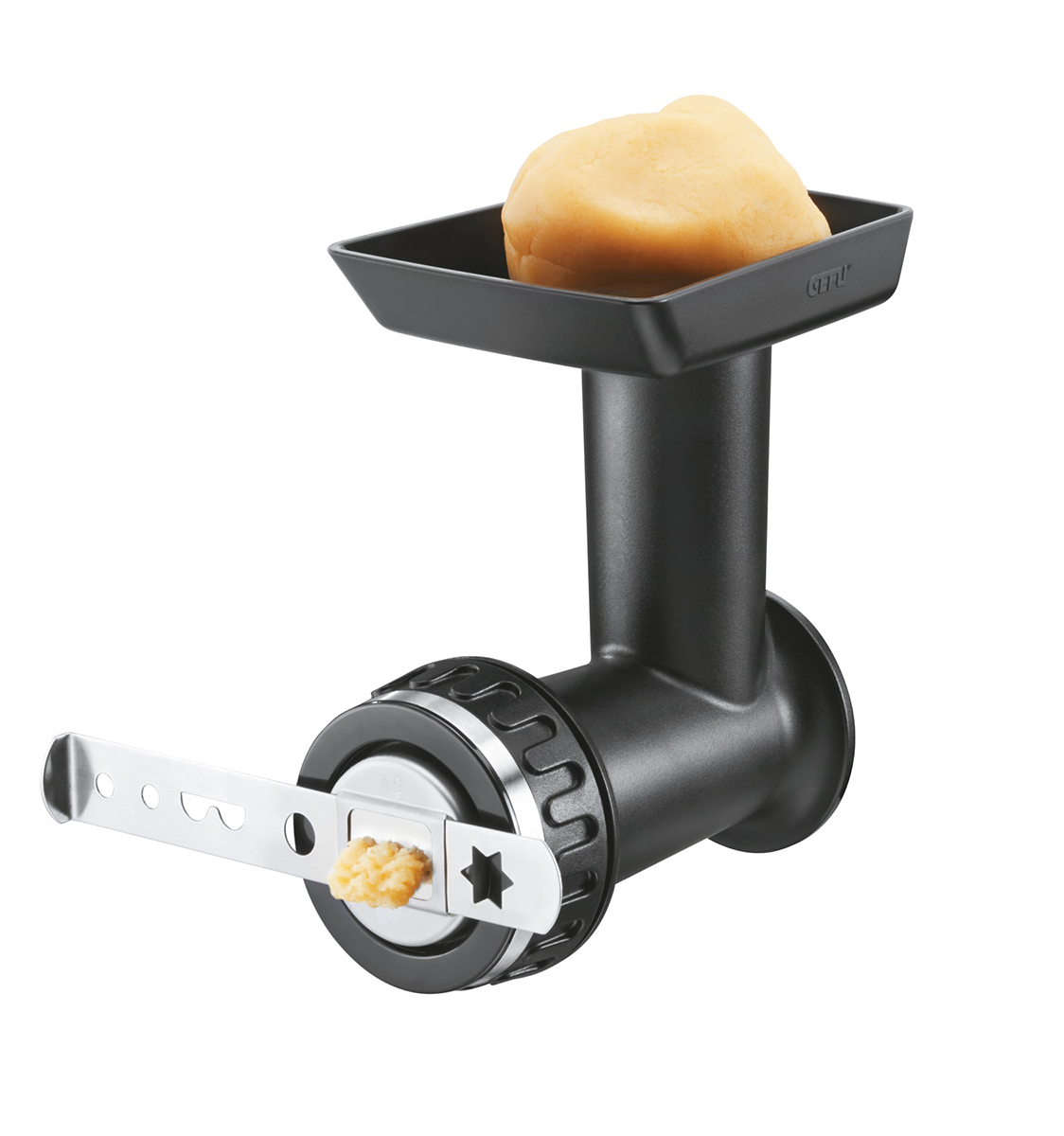 shortbread
Let your imagination run wild and create delightful baked goods with the cookie press attachment from TRANSFORMA.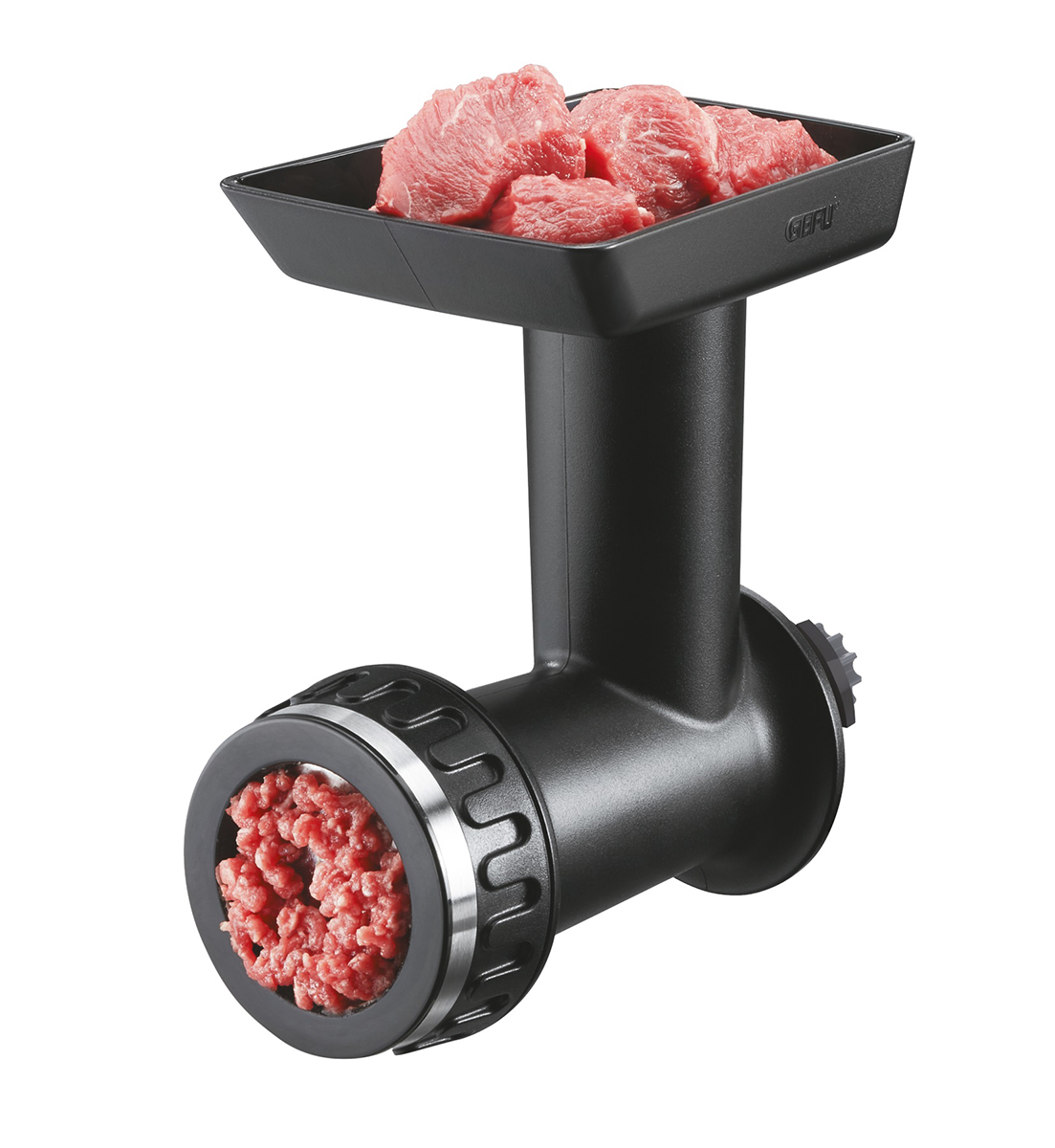 Meat Grinder
Explore the world of homemade ground meat with the meat grinder attachment from TRANSFORMA.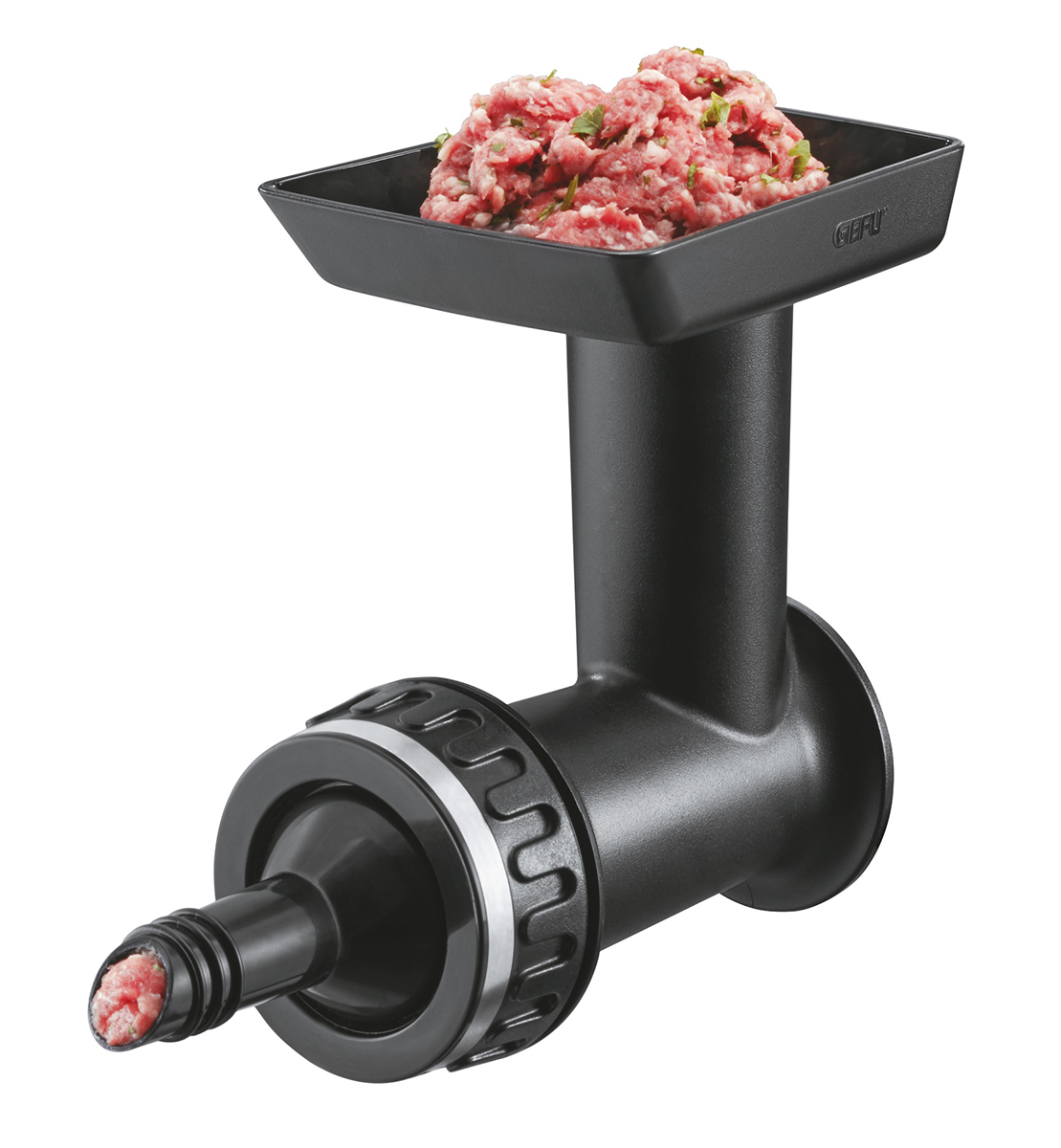 Sausage Stuffing Funnel
Unleash your creativity and effortlessly create delicious sausage specialties with the sausage stuffing funnel from TRANSFORMA.
Rezepte für den TRANSFORMA
The Stainless Steel Meat Grinder: A Must-Have Kitchen Helper
With the GEFU Stainless Steel Meat Grinder, you can choose the meat you eat:
Effortlessly grind meat and make your own minced meat, sausages, and burger patties.
Need some vegetable grating? The GEFU Drum Grater with sharp laser-cut blades and various drums has got you covered.
The special feature: The meat grinder and drum grater from the TRANSFORMA range are compatible with each other. One base, two attachments. Save money and space with TRANSFORMA!
Many people are familiar with the meat grinder from their grandparents' kitchen, where it was mainly used to process meat. However, contrary to its name, the meat grinder is a multifunctional kitchen tool that can be used to prepare various recipes. There are many advantages to independently processing meat into minced meat or sausages using a meat grinder. But even for vegetarians and vegans who have nothing to do with meat, investing in a high-quality stainless steel meat grinder is worthwhile. Especially if you can easily expand its functions with additional attachments. Curious? Then take a look at the GEFU meat grinder and the matching drum grater from the TRANSFORMA range!
Make Your Own Minced Meat, Sausages, and Burger Patties with the Meat Grinder
Cheap meat from the supermarket often contains medications and hormones and can make you sick when consumed regularly. One solution is to buy a high-quality piece of meat from your trusted butcher and process it yourself. Thanks to its self-sharpening wing blade and high-quality craftsmanship, the GEFU TRANSFORMA meat grinder can handle any piece of meat you want to process. With the GEFU meat grinder, you can decide on the composition of your minced meat, make high-quality burger patties yourself, or fill your own sausages using the practical sausage filling funnel.
Expand Your Repertoire with a Drum Grater: New Dishes with Lots of Vegetables
Naturally, you can also use your stainless steel meat grinder to mince vegetables. Your meat grinder can be used for all recipes that require vegetable mincing. From classic mashed potatoes to more exotic recipes such as falafel or various vegetable spreads—just put the vegetables into the meat grinder! If you want even more versatility in the kitchen while saving a lot of money, the matching drum grater is the perfect choice! The GEFU TRANSFORMA meat grinder and drum grater can be combined with each other. If you already own one of the products with the base, you can simply purchase the other attachment and combine it with the base. Instead of spending money on two complete kitchen appliances that take up additional space in your cabinets, you have everything you need at once.
If you don't have any TRANSFORMA products yet and are excited about them, why not purchase the combination of the base and both attachments? With the different drums of the drum grater, you can effortlessly cut all ingredients to your desired fineness—whether it's vegetables, fruits, nuts, or chocolate. The extra-sharp laser-cut drums make cutting a breeze.
Get in the Christmas Spirit: shortbread Cookies Made Easy with the Meat Grinder
The Christmas season wouldn't be the same without delicious Christmas cookies. And with the meat grinder, you can easily make traditional spritz cookies. Just use the appropriate attachment to create beautifully shaped cookies. Enjoy!